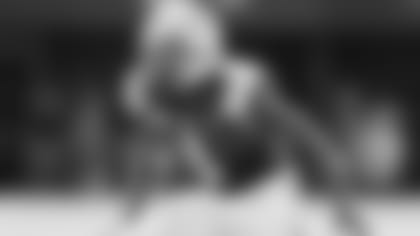 Leading up to the NFL Scouting Combine, we will preview the top prospects in the 2020 NFL Draft based on The Athletic's Dane Brugler's Top-100 list.
Prospect in Focus: Alabama CB Trevon Diggs (6'2", 207) SENIOR
Overview
Kristian Fulton was arguably one of the nation's top corners for the majority of the 2019 college football season. Fulton left the Bayou with a championship, but individually finished on a sour note with a subpar performance against Clemson in the National Championship Game.
"Well you don't over react to one game, but at the same time, you don't ignore it either especially on that stage in the National Title Game and against the caliber of receivers that Clemson was throwing out there with Tee Higgins and Justyn Ross and the other high-level receivers they had on that roster," The Athletic's Dane Brugler said. "The bottom line is his evaluation will be based on the body of work and that's what he put on tape the last two seasons, not just that last game."
2019: 38 TKL, 1 INT, 15 PD
2018: 25 TKL, 1 INT, 10 PD
Scouting Report
Fulton played in a talented secondary with S Grant Delpit, a projected first-round pick this year, and CB Derek Stingley Jr., who was a true freshmen consensus All-American. Fulton started the past two years for the Tigers and totaled 25 pass defenses and 2 interceptions.
"Fulton is a very composed athlete," Brugler said. "He has smooth turn-and-run skills, he has patience with his reaction quickness to stay on top of routes. He's a very heady player, especially at the catch point. Over the last two years, he's played in 25 games and has recorded 25 pass defenses so that's a pretty good ratio there in terms of getting his hand on the ball when he's targeted. He has enough of that ball production where evaluators can feel comfortable about his ability to find the football to make plays."
Fulton was suspended the 2017 season for failure to comply with a drug test. His coaches and scouts, according to Brugler, don't believe his character is a red flag. On the field, however, NFL teams will look for Fulton to improve in certain areas.
"He's very patient in his process, but almost too patient at times," Brugler said. "He needs to do a better job gaining body position before receivers. We saw that against Clemson. He also has the toughness and instincts that he can match up in the slot. The one area where teams want to see him get better is as a tackler and improve his play strength to get off blocks."
Why Jets Fans Should Care
The Jets started eight cornerbacks in 2019 and two CBs — Brian Poole (14 games, 10 starts) and Maurice Canady (8 games, 2 starts) — are scheduled to become unrestricted free agents. Arthur Maulet (12 games, 6 starts) will be a restricted free agent come March.
"The 11th overall pick would be a little rich for Fulton, but in a trade-back scenario, the LSU corner would be on the radar," Brugler said. "Despite a shaky National Championship Game performance, his body of work says he is a solid NFL starter."