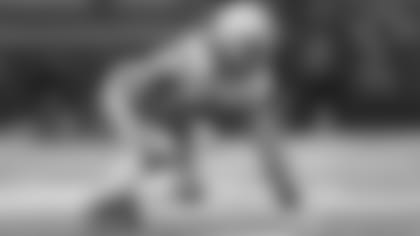 Leading up to the NFL Scouting Combine, newyorkjets.com will preview the top prospects in the 2020 NFL Draft based on The Athletic's Dane Brugler's Top-100 list.
Prospect in focus: Ohio State EDGE Chase Young (6'5", 265) JUNIOR
Overview
Young will likely follow Joey and Nick Bosa's footsteps as the next Buckeye pass rusher to be selected in the top-three picks. Young led the FBS in sacks (17), tackles for loss (21) and forced fumbles (7). He had at least 2 sacks in six of his 11 regular-season games and recorded at least 1 sack in nine games.
"Sack numbers are great, but that persistent disruption is better than any production numbers you can find in the box score," The Athletic's Dane Brugler said. "Chase Young is consistently disruptive, he can beat you in multiple areas with his power, quickness and his hands. I think there's a good chance that we see him end up joining his former teammates Dwayne Haskins and Terry McLaurin in Washington with the No. 2 pick in when it's all said and done."
2019: 46 TKL, 21 TFL, 17 sacks, 7 FF
2018: 33 TKL, 14.5 TFL, 10 sacks, 1 FF
2017: 19 TKL, 6 TFL, 4 sacks, 1 FF
The Scouting Report
Young, according to Brugler, has a higher ceiling than the Bosas, but his pass-rush craft isn't as refined yet. Young is, however, a superior athlete than his predecessors in Columbus, OH.
"I think what's so impressive for a player that size is that he keeps his hips, his hands and his feet in sync at all times," Brugler said. "His balance mid-rush really allows him to expand his bag of tricks. He can quickly read blockers, adjust mid-play to decide how he's going to attack. A lot of pass rushers will predetermine what they're going to do. We talk about that with quarterbacks. They predetermine their reads and where they're going to go on the field ⁠— the same with pass rushers. The special rushers like a Chase Young will adjust mid-rush based on what the blocker is showing him and his reads during the play."
Brugler said Young is a tireless student of the game, which has benefitted him most against the run. He's an alert player and an above average run defender. Young was the top prospect entering the college football season and leaves school as Brugler's No. 1 prospect entering the 2020 NFL Draft. So what does he need to improve at the pro level?
"It's expanding the technique, the mechanics of the position," Brugler said. "The Bosas were further along with how they used their hands and their plan of attack. I think that's where Chase Young can continue to grow. He has all the freaky tools and now it's just up to him to expand that bag of tricks and become a little more refined with what he does with his hands and his overall pass rush."
Why Jets Fans Should Care
"Chase Young is the best player in the draft and the type of pass rusher who should terrorize offenses very early in his NFL career," Brugler said. "Unfortunately for the New York Jets, that means he will be off the board in the first three picks. So Young is an unlikely candidate to land with the Jets, but he is a player worth knowing."