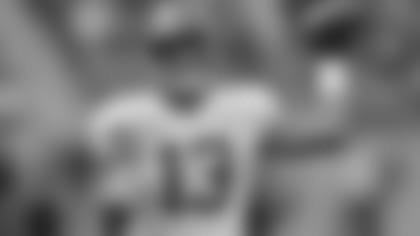 Leading up to the NFL Scouting Combine, we will preview the top prospects in the 2020 NFL Draft based on The Athletic's Dane Brugler's Top-100 list.
Prospect in focus: Alabama QB Tua Tagovailoa (6'1", 218) JUNIOR
Overview
The biggest part of Tua Tagovailoa's evaluation will be his medical. He's 23-1 in two seasons as Alabama's starting quarterback and has thrown for 6,806 yards, 76 touchdowns and 9 interceptions in those games while completing 70% of his passes. His junior year was cut short in November because of a hip injury.
"Best-case scenario, we likely see Tua do a personal workout before the draft in early April," The Athletic's Dane Brugler said. "Even that's not a guarantee. Over the last 14 months, he's had surgery on his left ankle, right ankle and then the most serious thing is what he's currently working his way back from in the dislocated hip. He had immediate surgery mid-November, but that's a recovery process that's three-to-four months. At the Combine, we still won't have enough information.
"While it's a complicated situation, let's make it simple. If the team doctors sign off on Tua and the medical and say he's going to make a full recovery where there are no long-term effects, he's going to be a top-seven pick. If the doctors don't sign off, then it's anybody's guess where he ends up. It's a really complicated evaluation that comes down to the medical."
2019: 9 games, 71.4%, 2,840 yards, 33 TD, 3 INT
2018: 15 games, 69%, 3,966 yards, 43 TD, 6 INT
2017: 8 games, 63.6%, 636 yards, 11 TD, 2 INT
The Scouting Report
Tagovailoa's natural instincts, according to Brugler, are perhaps his best trait. He doesn't have elite arm talent and had a strong supporting cast. Both of the Crimson Tide's starting receivers — Jerry Jeudy and Henry Ruggs — could be top-15 picks and OT Jedrick Wills, who protected Tagovailoa's blindside is Brugler's No. 5 overall prospect. Some critics, as a result, will use this against Tagovailoa.
"He's a twitchy thrower of the football," Brugler said. "His mental processor is outstanding and he has great instincts where he can use his legs and his mind. He's an accurate thrower downfield. He's the not the biggest guy, he's a lefty. There are certain things about his game that you can nitpick at, but when it comes down to it, he just creates because of what he can do with his arm and his legs. As long as he's healthy, Tua will be one of the first players drafted in this class."
Brugler added: "He doesn't look stressed out there. Pressure doesn't really get to him. He has a very good understanding of the offense, where his routes are run. He doesn't look like he's ever in a panic mode. It's a very controlled environment in the pocket and he has those twitchy body movements where he can get the throw off."
Why Jets Fans Should Care
"There is a decent chance he'll be playing in the AFC East next year on the Dolphins roster," Brugler said. "It's a complicated evaluation, but Tua going in the top-10 would be a good thing for the Jets, who aren't in the quarterback market, because it would push another non-QB down the list."