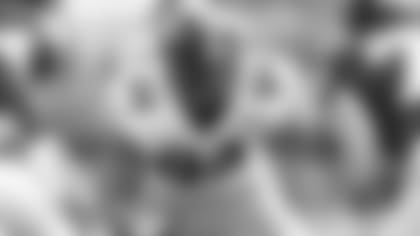 Leading up to the NFL Scouting Combine, we will preview the top prospects in the 2020 NFL Draft based on The Athletic's Dane Brugler's Top-100 list.
Prospect in Focus: Iowa EDGE A.J. Epenesa (6'6", 280) JUNIOR
Overview
A.J. Epenesa was one of the top recruits to choose Iowa under Kirk Ferentz, who's been the head coach of the Hawkeyes since 1999. Epenesa, who totaled 22 sacks in 2018-19, had 11.5 last season in his first year as a full-time starter and added 49 tackles, 14.5 tackles for loss and 4 forced fumbles.
"I think everyone is kind of jockeying in position after Ohio State EDGE Chase Young," The Athletic's Dane Brugler said. "Where does Epenesa stack with Auburn DT Derrick Brown, who's another defensive lineman who's highly rated in this class or some of these other pass rushers this class has to offer? Right now, he's right in the mix to be the second defensive end drafted. He's not that speed rusher who's going to blow by tackles, wrap the corner and finish at the quarterback. He needs to be a little more creative and precise with how he uses his hands to make sure he doesn't have any wasted movement. That's really important for his pass-rush plan — to be efficient and powerful. He does both things very well."
2019: 49 TKL, 14.5 TFL, 11.5 sacks, 4 FF
2018: 37 TKL, 16.5 TFL, 10.5 sacks, 4 FF
2017: 15 TKL, 5.5 TFL, 4.5 sacks, 1 FF
The Scouting Report
Epenesa, according to Brugler, has power, size and an understanding how to get to the quarterback. He's a very smart player who always has a plan of attack as a pass rusher.
"He knows the why. He understands the how to," Brugler said. "This was his first year as a full-time starter. It's pretty rare for a guy to have this type of savvy and technical understanding at the pass-rush position. I think that's part of what makes him such a special player."
He added: "He doesn't have that initial burst, but it's more controlled speed. He's more quick than fast, so he's not going to surprise blockers with his athletic traits, but he can play in space. He can control his momentum. I think that's something that in close quarters and hand-to-hand combat, that's something that really benefits him."
Why Jets Fans Should Care
The Jets' leader in sacks the past two seasons, OLB Jordan Jenkins, is scheduled to become a free agent in March. The Jets finished 23rd in the NFL with 35 sacks and general manager Joe Douglas said the line of scrimmage will always be a priority.
"He's a possible top-15 pick and in the top-15, you just want to take the best players," Brugler said. "Depending on how he fits the Jets' scheme, I think that's debatable, but there's no question that he is one of the top-15 talents in this class. He can get to the quarterback and there's plenty of value in that."