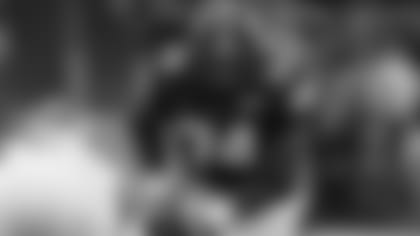 Leading up to the NFL Scouting Combine, we will preview the top prospects in the 2020 NFL Draft based on The Athletic's Dane Brugler's Top-100 list.
Prospect in focus: Iowa T Tristan Wirfs (6'5", 322) JUNIOR
Overview
Wirfs has played most of his collegiate career at right tackle although he's started on the opposite side when Iowa's starting LT was hurt. Wirfs, a junior from Mount Vernon, Iowa, became the first Hawkeye to win Big Ten Offensive Lineman of the Year since Brandon Scherff in 2014. He was the first true freshman to start at tackle under Kirk Ferentz, who took over as head coach of the Hawkeyes in 1999.
"He's so quick to gain position and stay square to rushers," The Athletic's Dane Brugler said. "He'll use his hands, he can absorb rushers and redirect that power so he can shield the pocket. Where he gets himself in trouble is he tends to overset in pass protection, but he has that big-man twitch. That really allows him to quickly reset, stay in position. Scouts love his balance, his sound technique and his versatility. We've seen him at both left and right tackle and knowing that he can play at either spot is something teams will enjoy. He's currently my No. 2 offensive tackle behind Jedrick Wills and I think he has a chance to be a top-10, top-12 talent."
2019: Started 12 games at RT
2018: Started 12 games at RT
2017: Played in 9 games, started 7 at RT
The Scouting Report
Wirfs, according to Brugler, needs to tighten up some technical flaws. He tends to overstep and put weight on his outside foot in pass protection, which is something experienced rushers could take advantage of.
"He does have the upper-body technique that you want to see," Brugler said. "He can lock on to defenders and move them in the run game. At the same time, where he really shines is pass pro. He doesn't get beat very often. I think he can do both, but I think it's fair to say his strength is in pass pro compared to run block."
Brugler added about Wirfs' run blocking: "It's not so much power as it is understanding how to leverage your power. That comes back to technique and being able to redirect. He's a powerful guy. He's going to light up the Combine with what he can do in the weight bench and some of the drills. He rewrote the record books at Iowa in terms of the weight-room numbers. We know he has the power, but it's all about redirecting that power with your body leverage and composition to make sure you're doing it the right way to redirect defenders in the run game."
Why Jets Fans Should Care
Jets GM Joe Douglas said the line of scrimmage will be a "priority" every year and both 2019 opening-day starting tackles — LT Kelvin Beachum and RT Brandon Shell — have expiring contracts.
"He's one of the best tackles in this draft and if you have a chance to get him in the top 12 picks, that's something you shouldn't pass on," Brugler said. "He's a really good player who projects on either the left or the right side."