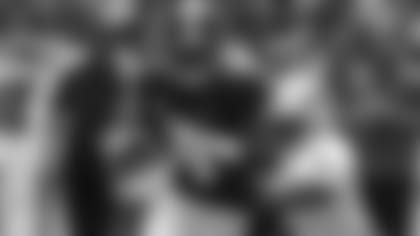 Leading up to the NFL Scouting Combine, we will preview the top prospects in the 2020 NFL Draft based on The Athletic's Dane Brugler's Top-100 list.
Prospect in Focus: Alabama WR Jerry Jeudy (6'1", 192) JUNIOR
Overview
When you think of Jerry Jeudy, the first word that comes to mind is speed. He eclipsed 1,000 yards in 2019 for the second consecutive season at Alabama and totaled 26 touchdown receptions in three seasons. Only Cowboys WR Amari Cooper caught more TDs for the Crimson Tide (31).
"In a lot of ways, I think he's similar to Calvin Ridley, a guy that has that speed where he can make stuff happen before and after the catch," The Athletic's Dane Brugler said. "That's really the name of the game at receiver in the NFL — can you get open and what can you do after the catch? Do you have those YAC skills? With Jeudy, that speed and his ability to break and balance, that really destroys pursuit angles in coverage. I think for a team that's going to be able to utilize that speed both in short plays, deep plays, all over the field, he's going to help an NFL offense."
2019: 77 rec, 1,163 yards, 15.1 avg, 10 TD
2018: 68 rec, 1,315 yards, 19.3 avg, 14 TD
2017: 14 rec, 264 yards, 18.9 avg, 2 TD
The Scouting Report
Jeudy's "game-altering speed" is a great asset, but according to Brugler, what's more impressive is the way he's able to manipulate defenders by shifting gears mid-route.
"He can accelerate in a blink, brake on a dime and get back to full speed," he said. "With his profound releases because of his quickness, he's very technically skilled with the leverage of his routes and the way he can set up defensive backs."
Jeudy is an electrifying talent but will probably need to improve his overall strength at the pro level to improve his consistency as a finisher.
"Well, he's not physically impressive when you look at him," Brugler said. "He's thin-boned and doesn't have a lot of bulk on his frame. He'll make some terrific catches and I don't think that drops are necessarily a huge concern there. But in terms of finishing, he needs to work on being able to turn those small plays into big plays and making sure he secures those catches. He's a type of player that can help you on special teams and as a blocker. He needs to show he's not just an electric speed guy, but that he can help you out in all facets."
Why Jets Fans Should Care
Robby Anderson and Demaryius Thomas are scheduled to become free agents in March and Quincy Enunwa's status is in question as he recovers from a neck injury.
"It would be easy to argue that the need at other positions, specifically offensive tackle, are more pressing," Brugler said. "But the chance to pick up a dynamic playmaker like Jeudy would immediately help a young quarterback and jolt some life into the offense."