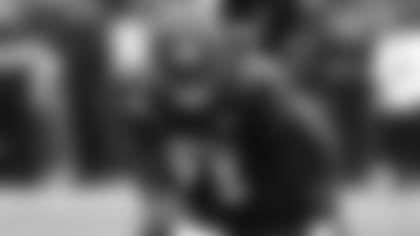 Leading up to the NFL Scouting Combine, we will preview the top prospects in the 2020 NFL Draft based on The Athletic's Dane Brugler's Top-100 list.
Prospect in Focus: Louisville T Mekhi Becton (6'7", 369) JUNIOR
Overview
Mekhi Becton is an athletic 6'7", 369-pounder. In his first season at left tackle for the Cardinals, Becton started all 13 games after playing right tackle in 2018. He's frequently been linked to the Jets at No. 11.
"When I slotted Becton to the Jets in my mock a few weeks ago, I received a lot of surprised responses thinking he might be going too high, but when you're talking about a blocker with his rare ability, these guys go high," The Athletic's Dane Brugler said. "There are some sloppy tendencies about his game. He'll get a little over aggressive and rely on his size and technique, but he's still growing at the position. I know some scouts think he's the top tackle in this class. There's a great chance he'll end up as a top-10 pick because of his rare ability."
2019: Started all 13 games at LT
2018: Started 10 games at T
2017: Started 11 games at T
Scouting Report
Former Louisville head coach Bobby Petrino said the school wanted to offer Becton a scholarship when they saw him do reverse dunks on the basketball court.
"The words light feet are not often associated with a 360-pound human being, but that's the case with Becton," Brugler said. "It's not just his feet. He's twitched up, he's got the body flexibility where he can react to whatever the action requires."
He added: "He really benefits from the planet theory. There are only so many people on the planet that have his skillset, his athleticism and power at that size. That's why he's going to be a very attractive player in the top 10-12 picks in April."
Becton's blend of size and athleticism, according to Brugler, allows him to be effective against pass rushers, but his strength is in the run game.
"He's a people mover in the run game," he said. "He drives defenders from their spot, collapses the line on down-blocks and he stays after it. He finishes his man to the ground. He really relishes that part of the game. He's a gifted blocker with outstanding movement skills. He has power. He projects as a high-upside player with experience at both left and right tackle. Even though he still needs some work, I think we're going to see him start as a rookie in the NFL and he's going to be a longtime pro."
Why Jets Fans Should Care
Jets GM Joe Douglas said the line of scrimmage will be a "priority" every year and both 2019 opening-day starting tackles — Kelvin Beachum and Brandon Shell — have expiring contracts.
"Becton is one of the most physically impressive tackle prospects in recent memory, which should immediately grab the attention of Jets fans," Brugler said. "His combination of size, strength and athleticism is what makes him a potential top-10 pick in this class and some NFL scouts believe he is the top tackle."