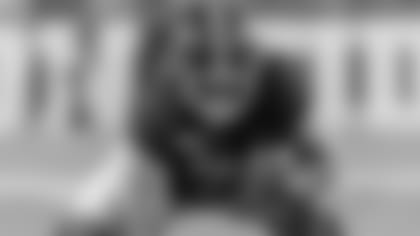 Leading up to the NFL Scouting Combine, we will preview the top prospects in the 2020 NFL Draft based on The Athletic's Dane Brugler's Top-100 list.
Prospect in focus: Alabama T Jedrick Wills (6'5", 320) JUNIOR
Overview
Wills is debatably the top tackle prospect in this draft class that also features Georgia's Andrew Thomas and Iowa's Tristan Wirfs. Wills has started every game for the Crimson Tide at right tackle the last two seasons protecting QB Tua Tagovailoa's blindside.
"Wills is a former five-star guy, so he's been on the radar for a little bit," The Athletic's Dane Brugler said. "He put together a strong sophomore year in 2018 and then he took a big jump this past year in 2019. We knew he was a mauler in the run game, but he's an ascending pass protector as well. He's explosive, he's long, he can move and he has the competitive appetite that you want at the position."
2019: Started all 12 games at RT
2018: Started all 15 games at RT
2017: Played in 11 games at RT
The Scouting Report
Wills, unlike Thomas and Wirfs, has no experience playing at left tackle in college. Thomas started the past two seasons for Georgia at LT and Wirfs played three games at LT this season. As a result, it's a question whether Wills can play swap sides at the pro level.
"It's currently an unknown in his evaluation because we haven't seen him on the left side and even in high school, he predominantly played right tackle," Brugler said. "It's something that'll come down to the workouts, but in terms of in-game live reps, that's a projection that teams will have to make. They'll work him out at left tackle just to see his movements and the muscle memory to see if he looks natural doing it. I think he will. I think all the athletic traits are there for him to do it, but it does take a little bit of a leap of faith if you are projecting him to play left tackle in the league."
Even though Wills' strength is in the run game, he's shown improvement in pass protection and it's not a weakness in his game.
"He's a fired-up competitor," Brugler said. "There are times on tape where he looks like a man amongst boys. He can drive defenders off the ball. He's never passing on an opportunity to bury a defender. In pass protection, that's where he has a little room to get better with his technique, his mechanics. A spin move will give him problems at times, but he gains proper depth in his kick slide, he's very fluid and he has the length. This is a player where you see the explosive power, the aggressive mentality and the budding confidence that I think will translate very well to the next level."
Why Jets Fans Should Care
Jets GM Joe Douglas said addressing the line of scrimmage will be a "priority" every year. Both 2019 opening-day starting tackles — LT Kelvin Beachum and RT Brandon Shell — have expiring contracts.
"He's one of the best offensive tackle talents in this draft class," Brugler said. "He likely goes in the top-10 picks, but he's a player that will be on the Jets radar, either at No. 11 or as a trade-up option."