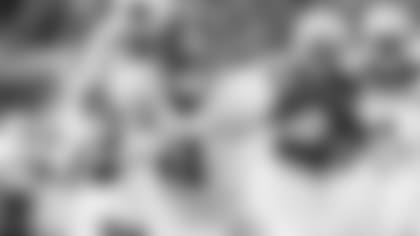 Leading up to the NFL Scouting Combine, we will preview the top prospects in the 2020 NFL Draft based on The Athletic's Dane Brugler's Top-100 list.
Prospect in Focus: Alabama WR Henry Ruggs (6'0", 190) JUNIOR
Overview
Even though Jerry Jeudy may have received more national attention than Henry Ruggs, Ruggs was very productive for the Crimson Tide. He had 37 fewer receptions than Jeudy last season, but still managed to put up 746 yards on 40 receptions while averaging 18.7 yards per catch. He finished third in school history with 24 touchdown receptions. Ruggs also returned kicks and averaged 23.8 yards per return on 12 attempts.
"He might put up a 4.2 number at the Combine in the 40-yard dash, which is crazy to think about," The Athletic's Dane Brugler said. "You watch him on tape and you say a prayer for those corners. There are times where he just puts them in a blender with his ability to shift gears, manipulate that speed. It's unfair at times and he's doing it against pretty good corners. You throw on the LSU tape, he's doing it against Kristian Fulton, who has a good chance to be a first-round corner in April. That difference-making speed is what really stands out on his film and is what's going to make him a big-time player in the NFL."
2019: 40 rec, 746 yards, 18.7 avg, 7 TD
2018: 46 rec, 741 yards, 16.1 avg, 11 TD
2017: 12 rec, 229 yards, 19.1 avg, 6 TD
The Scouting Report
Some speedsters, according to Brugler, could be track guys or labeled "soft," but that's not the case for Ruggs. His competitive nature is one of his best traits.
"This is a true football player," Brugler said. "He's more than just the track speed. His competitive makeup really stands out and sometimes it's tough for that to stand out on tape. You don't necessarily see that, but you see him blocking through the whistle, pursuing down the field, continuing to try and get open for his quarterback. While corners must respect his speed, which opens up options underneath, that competitive nature really stands out on tape."
Ruggs is explosive, but he needs to work on breaking tackles at the next level to turn plays around the line of scrimmage like bubble screens, end-arounds and jet sweeps into big gains.
"We know what he can do with his speed and if he has space to work with he can make things happen," Brugler said. "That's what makes Chiefs WR Tyreek Hill such a special, dynamic talent — not only does he have the speed, but he can be a running back at times because he can break tackles and make guys miss. Henry Ruggs can do a little bit better job of doing that in the open field. He's a top-level competitor, there are no questions about his toughness and his talent."
Why Jets Fans Should Care
Robby Anderson and Demaryius Thomas are scheduled to become free agents in March and Quincy Enunwa's status is in question as he recovers from a neck injury.
"Tyreek Hill has special athleticism that makes him an X-factor," Brugler said. "The closest thing to that type of weapon in this draft is Ruggs, who just moves differently than most athletes with his speed. He should be on the short list of options at No. 11 for the Jets."