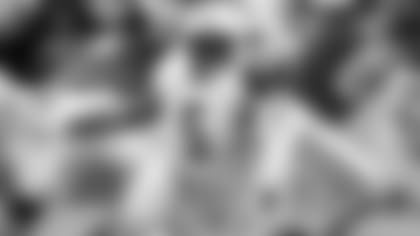 Leading up to the NFL Scouting Combine, we will preview the top prospects in the 2020 NFL Draft based on The Athletic's Dane Brugler's Top-100 list.
Prospect in focus: Auburn DT Derrick Brown (6'5", 318) SENIOR
Overview
Brown is the top defensive tackle in this year's draft class. He started for the Tigers the past three seasons and totaled 159 tackles, 32 TFL and 12 sacks in that span.
"There's a little bit of Jeffrey Simmons to him, who was a top-20 pick and would've been a top-5 pick if not for the injury and some of the baggage," The Athletic's Dane Brugler said. "He's uniquely gifted. He was a five-star guy. Colleges saw this coming, but he developed each year and he doesn't rely on his talents. He puts in the work, he plays with fire and competitiveness, so Simmons is a guy that immediately comes to mind. I don't know if it's a perfect comp, but there are some similarities there."
2019: 55 TKL, 12.5 TFL, 4 sacks, 4 PD, 2 FF
2018: 48 TKL, 10.5 TFL, 4.5 sacks, 2 PD, 1 FF
2017: 56 TKL, 9 TFL, 3.5 sacks, 1 PD, 2 FF
2016: 11 TKL, 1.5 TFL, 1 sack, 1 PD, 0 FF
The Scouting Report
If a team is going to take a defensive tackle in the top-five, according to Brugler, the player has to have pass-rush value, which is something Brown has shown flashes of. He had 4 sacks in 2019.
"I think the biggest question is does he offer enough as a pass rusher that he's worth a top-5 pick?" Brugler said. "I think the athleticism is there, there's no question. That initial quickness, he can create immediate knockback. He can reset the line of scrimmage. I think his overall body control is very impressive, his flexibility for a guy that size. He has some range. Maybe more impressive than the power and explosiveness is the effort. He makes plays with hustle and creating some pursuit plays that most defensive tackles don't make. The overall motor, explosiveness, the power, they all go into what makes him a top-10 player."
Brugler added he'd like to see Brown continue to develop his pass rush to cement his status as a top-7 selection in April.
"If you're going to a defensive tackle and go that early, you have to give some type of pass rush," he said. "If you can create that interior disruption, that's huge. He relies a little bit too much on his bull rush, so developing secondary moves and piecing together a rush plan, things like that, are things he can get better at and make him worthy of a top-5 to top-7 pick."
Why Jets Fans Should Care
"I doubt the Jets will draft interior defensive line again in the top half of Round 1, but I also doubt that Brown will fall out of the top-10," Brugler said. "As far as Jets fans are concern, Brown is a domino — a domino that should fall early and drop another talented player to the 11th pick."