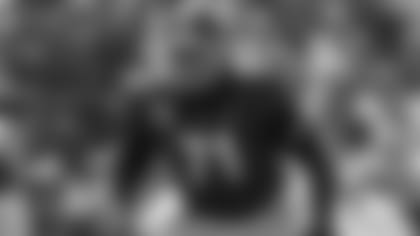 Leading up to the NFL Scouting Combine, we will preview the top prospects in the 2020 NFL Draft based on The Athletic's Dane Brugler's Top-100 list.
Prospect in Focus: Georgia T Andrew Thomas (6'5", 320) JUNIOR
Overview
Compared to the other top offensive tackles in this class, Andrew Thomas has the most experience at left tackle. Thomas started the past two seasons on the left side for Georgia after earning All-Freshman honors at right tackle in 2016. He became the first Bulldog to win the Jacobs Blocking Trophy in 21 years in 2019, which is awarded to the top lineman in the SEC.
"If the Jets are searching for an offensive tackle in the first round, this is a good year to do so especially with some of the juniors and Thomas is one of them," The Athletic's Dane Brugler said. "He had a good, not great, junior season. He looks a little overweight and his technique hasn't always been clean, but he's so good at staying balanced. The best athletes can reset themselves and find their balance and that's what Thomas does so well. He does a nice job at contact and keeps his feet underneath him. He does a nice job with his length. He can absorb and pass off defenders."
2019: Started 13 games at LT
2018: Started 13 games at LT
2017: Started 15 games at RT
The Scouting Report
Thomas' coaches, according to Brugler, referred to him as the leader of the offensive line. One of four team captains this season, Thomas doesn't talk a lot, but everybody sits up and listens when he does. On the field, his strength is in the run game.
"For offensive linemen, you're looking for soft feet and load hands, and that's what Thomas offers," Brugler said. "It's certainly part of his strengths. He holds his own in pass protection, he rolls his hips and introduces a firm punch at contact. He can overwhelm in the run game. He really gets after it. He does a great job at the second level. He can forklift linebackers out of the way. He's a mature young man and someone who should adapt fairly well to the NFL game."
Thomas was successful in Athens and has an impressive résumé, but he needs to clean up his technique.
"When you study his tape, he tends to overset, which throws his timing off," Brugler said. "That leads to him ending up on the ground too often. In college, even the SEC, he was able to get away with that because of his natural athleticism and his ability to reset and recover. Against NFL speed, it's going to be a different story and he needs to sure up his timing and mechanical issues to maintain a better balance and a better base if he's going to make it outside as a tackle. Some teams might even want to move him inside to guard."
Why Jets Fans Should Care
Jets GM Joe Douglas said the line of scrimmage will be a "priority" every year and both 2019 opening-day starting tackles — Kelvin Beachum and Brandon Shell — have expiring contracts.
"Thomas has all the makings of a top-10 pick, but he's going to be competing," Brugler said. "Is he going to be the first tackle drafted or maybe the third tackle drafted?"