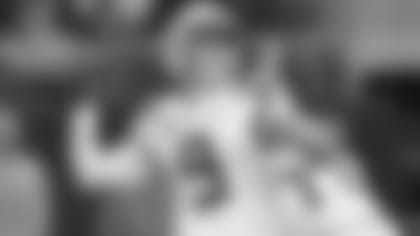 Leading up to the NFL Scouting Combine, wewill preview the top prospects in the 2020 NFL Draft based on The Athletic's Dane Brugler's Top-100.
Prospect in focus: LSU QB Joe Burrow (6'4", 216) SENIOR
Overview
Burrow, this year's Heisman Trophy winner, saved his best for last. The senior QB had a career year for the Tigers, completing 77.6% of his passes while throwing for 5,208 yards, 55 touchdowns and 6 interceptions. The Athens, OH native led No. 1 LSU to an undefeated regular season in his second year as starting quarterback. Burrow began his collegiate career at Ohio State and played in 10 games for the Buckeyes from 2016-17 before he transferred to Death Valley.
"People will point to the fact that he's only done it this season and didn't do it last year as a junior, but he's done it every game this season," The Athletic's Dane Brugler said. "There hasn't been one time that you can point to and say he had a bad game here or a bad half here. He's been consistently great from start to finish and that's going to play through the draft process. I think he's the clear favorite to be the top overall pick."
Brugler added: "Rarely do we see a player go from his junior year to his senior year and take such a jump. It's really uncharted waters and that's why there will be some teams and some decision makers that will have a tough time getting past that because we've never seen it before. After watching Burrow this year and studying his game, I don't know how you couldn't be all in with what he's showing on tape."
2019: 77.6%, 5,208 yards, 55 TD, 6 INT
2018: 57.8%, 2,894 yards, 16 TD, 5 INT
2016-17: 74.4%, 287 yards, 2 TD, 0 INT
The Scouting Report
Burrow's former head coach at Ohio State, Urban Meyer, described him as a "competitive maniac." Burrow, according to Brugler, doesn't have elite arm strength but makes up for it with his intangibles.
"He's so smart," Brugler said. "He shows the ability to quickly identify the void or the vulnerable matchup and he doesn't miss it when he finds it. It's something where the ball placement and his understanding of where to go with the football really stands out. Those competitive juices are something that really drives the quarterback and what makes Drew Brees so special. It's an intangible position and Joe Burrow is off the charts when it comes to the intangibles."
Burrow has some mobility and has great pocket awareness. He's produced in every game this season, throwing for fewer than 300 yards in two games and has not completed less than 71.1% of his passes in a single game this season.
"He's unflappable," Brugler said. "It doesn't matter what defense he's playing or what they throw at him. The defense can do everything right. They can be perfect and Joe Burrow is still able to beat them because of his poise in the pocket, his confidence as a downfield thrower and his overall accuracy — the best trait that you can have at quarterback because it beats a perfect defense. That's what Joe Burrow is able to do consistently."
Why Jets Fans Should Care
"Joe Burrow is the clear favorite to go No. 1 to the Bengals in the draft and the Jets don't figure to be in the quarterback market this offseason, so Burrow won't be on the team's radar," Brugler said. "But he is QB1 to start the process and it will be interesting to see if Alabama's Tua Tagovailoa can make up any ground throughout the process."