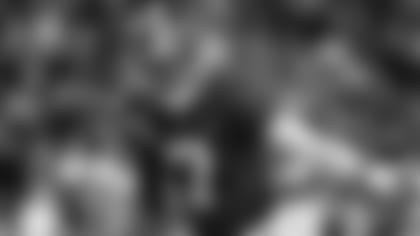 Leading up to the NFL Scouting Combine, we will preview the top prospects in the 2020 NFL Draft based on The Athletic's Dane Brugler's Top-100 list.
Prospect in Focus: Alabama CB Trevon Diggs (6'2", 207) SENIOR
Overview
Trevon Diggs, the younger brother of Vikings WR Stefon Diggs, was a four-star recruit and the No. 1 wideout in Maryland, according to scout.com. He started as a two-way player when he arrived in Tuscaloosa in 2016 before transitioning to defense full-time.
"His offensive background benefits him at corner," The Atheltic's Dane Brugler said. "The athletic traits are what teams are keying in on — the height and length is what makes him such an intriguing prospect. He has the long speed, he can stay attached to vertical routes, the lower-body twitch really allows him to spring in any direction. There's no question the technique is messy, but Alabama allowed him to be an athlete because that's what he did best and that's really what allowed him to be a big-time player for the Crimson Tide this season."
2019: 37 TKL, 3 INT, 11 PD
2018: 20 TKL, 1 INT, 7 PD
Scouting Report
Diggs had a career-high 3 interceptions in 2019 with one pick-six and 11 pass defenses. As a former receiver, according to Brugler, Diggs has a better understanding of route concepts than most corners. He is also able to locate the ball easily while engaged with wideouts, which is important because defensive pass interference is frequently called at the pro level when a defender doesn't turn his head and the ball is in mid-air.
"Aside from the athleticism, the ball skills are a strong selling point," Brugler said. "He played wide receiver in high school and on offense for a little bit when he enrolled at Alabama. He was also a big-time return man and it absolutely shows on tape. He gets his head turned to find the football, his hand-eye coordination allows him to attack at the highest point and his offensive background gives him that natural awareness of what the offense is trying to do. Not every corner shows that ability on defense. Those skills are why he's expected to land somewhere in Round 1."
Diggs, however, arguably relied on his athleticism too much at Alabama.
"Right now, Diggs is not a very technically sound player," Brugler said. "He tends to get lazy with his footwork and in his stance, he doesn't backpedal much on tape, so that forces him to prematurely open his hips and forces him to get physical maybe before he wants to just to hang on to routes. If he cleans up the technique, the discipline issues, he can be an impact, man-cover player in the NFL."
Why Jets Fans Should Care
The Jets started eight cornerbacks in 2019 and two CBs — Brian Poole (14 games, 10 starts) and Maurice Canady (8 games, 2 starts) — are scheduled to become unrestricted free agents. Arthur Maulet (12 games, 6 starts) will be a restricted free agent come March.
"The younger brother of Stefon Diggs of the Vikings, Diggs is an impressive athletic specimen on defense," Brugler said. "As a former receiver, he has the tracking skills and hands to create turnovers in coverage."