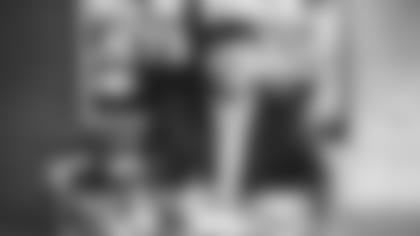 Jets fans may not know much about Trystan Colon yet, but they'll find out soon that he gives off this vibe of quiet toughness.
"I just felt like this was the perfect spot for me," Colon told newyorkjets.com's Ethan Greenberg about his free agency move from a Baltimore backup and fill-in interior lineman to the Jets' O-line. "This is a tough team. Coach Saleh has been building something here and I feel like it'll be a perfect fit for me to be part of.
"I like to say I play a tough, physical game. Everybody's been talking about wanting to establish the run. That's an offensive lineman's dream. What better way than for me to come here and run-block?"
Colon's tough determination emerges a little more when you become familiar with his family story. He never knew his father, Heriberto "Eddie" Colon, a drug company delivery driver in Joplin, MO, who died while on the job in a car crash at the age of 31. Colon was just 18 months old at the time.
He told of his evolution, on and off the surfaces of his favorite sports, in an in-depth 2019 feature in the Columbia Missourian. His large, proud Puerto Rican family buried Eddie back home in Juana Díaz, near Ponce and the island's southern shore. But Eddie lived on in Trystan, who has his dad's smile and his passion for water polo. That was Eddie's scholarship sport in college and was Trystan's first love in the U.S., until a football coach convinced him he was built for the gridiron.
His mother, Neysa Rosario, took him to the history museum and the Spanish fort in Old San Juan every time they returned to Puerto Rico. The last time he visited was right before his freshman fall camp at the University of Missouri.
"That's when I really started to understand and appreciate where I'm from and my heritage," Colon said. "Puerto Ricans are really proud people. Even now, I have so many cousins and aunts and uncles who don't really understand football, but win or lose, they tell me good job and I can see they're really, really proud of where I'm from."
Oh yeah, and his dad's name is tattooed on the inside of his left biceps.
Colon has filled some other voids in his young life very effectively. At Mizzou, he was redshirted in 2018 but was so impressive in the Tigers' weightroom that he was won the team's Lifter of the Year award. Even though Missouri was ineligible for bowl games in 2018-19 due to NCAA sanctions, he became a team leader and shaped himself into a strong college center.
However, he went undrafted and signed on as a rookie free agent with Baltimore in 2020. Even though he played in only 20 games with four starts in his three Ravens seasons, he made the most of that experience, too. He saw his most pro action in 2021, at right guard, center, and as a third tight end. As an extra blocker, he had one of his NFL career highlights at home against the Vikings that year. In his five plays, he blocked on two touchdown runs and on three plays to set up Justin Tucker's game-winning overtime field goal for the 34-31 win.
"My time in Baltimore was sweet. I love the city. It will always have a special place in my heart," Colon said. "And playing there taught me a lot in terms of dealing with adversity. The last two years, obviously, with Lamar [Jackson] going down, you've got guys stepping up when other guys were getting hurt, always having to be ready, always having that depth, always being ready to go.
"I think that's something I can bring here," he told Greenberg about this next chapter of his story with the Green & White. "I can bring depth, I can bring stability."
The Jets' center position post-Connor McGovern is still a work in progress, so Colon will get a chance to vie for the job there and also provide guard depth, a role that is all right by him.
"I'd say that's probably where I'm most comfortable — I love to play center. Having the power to control the line, having that trust with the quarterback, getting that snap back there every time, just having that communication," he said. "I transitioned to being able to play some guard as well, so learning those three interior spots, it's been fun.
"I'll do anything I can to get on the field. I'll do anything I can to get on the field, wherever the team needs me," said this proud son of his father, Puerto Rico, Missouri, Baltimore and now One Jets Drive. "Now I've got to put in the work I've got to get ready to go. Obviously I've got to learn the playbook, get in with the strength staff, get my nutrition right again. I've got to get geared up and ready to go for a long season."