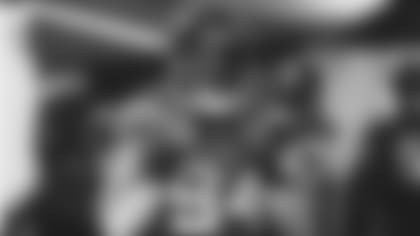 When Jets head coach Robert Saleh presented each of his players with an end-of-season gift of a T-shirt bearing the single command — FINISH — he wasn't referring to finishing a meal or finishing a nap. It was about finishing games and a season, so that a promising 7-3 start doesn't turn into a gut-churning 7-9 finish.
But Solomon Thomas is taking the word to heart.
"I'm training my tail off. I'm getting after it right now," said the Jets' thoughtful player who was a cog in the Jets' interior defensive line rotation last season. "I'm in a great place mentally, physically, spiritually and emotionally. Anything I do, any workout, I'm thinking about that fourth-and-1, about that third-and-long, whatever it is, and getting it in my mind: Finish every rep, finish every play.
"Whether it's training, reading, whatever I'm doing, I'm just trying to make sure, hey, finish-finish-finish."
The reason Thomas can think about finishing in green and white is because he'll be starting his second season with the Jets in 2023. He was an unrestricted free agent last month but quickly re-signed with the team and the head coach who brought him to One Jets Drive as a free agent a year ago.
"Free agency's different. It can be tough," Thomas told newyorkjets.com's Caroline Hendershot. "You hear a lot about how you're valued, you worry about where you're going to go and making the right decision. But it all fizzles out to where you're supposed to be, and for me, I knew I always wanted to come back here.
"I loved my year here last year, I loved my teammates, I loved the form I got to at the end of the year. I knew this was a place where I could excel and be my best, but I also know what's being built here and I wanted to be here."
It is definitely true that Thomas came on toward the end of the season, increasing his tackle rate, his tackles for loss/no gain and his pass rushing metrics after the Jets' bye week compared to before:
Table inside Article

| 2022 Splits | Snaps/Gm | Tackles | TFL/NG | Sacks | QBH |
| --- | --- | --- | --- | --- | --- |
| First 10 Games | 22.7 | 11 | 1 | 0 | 0 |
| Last 7 Games | 21.1 | 15 | 4 | 0.5 | 4 |
This wasn't Thomas' most impactful NFL season. That would probably be his rookie year with San Francisco in 2017, when as the third overall pick of the draft he posted career highs in defensive snaps, tackles, TFLs and QB hits. He also had career highs with 3.5 sacks and 12 QB hits in 17 games with the Raiders in 2021.
But he reacquainted himself with the system and with Saleh, his Niners defensive coordinator his first four seasons in the league.
"Coach Saleh and I are really close. I love him, I love his family. He has a special place in my heart, just the way he's fought for me, the way he's taken care of me," Thomas said. "I wanted to be somewhere where I was wanted, where people believe in me, and I believe that is here. Coach Aaron [Whitecotton, Jets DL coach] believes in me and I'm in a place where I believe in myself."
He's set to continue his pass-rushing improvements, especially as he lines  up alongside Pro Bowl DL Quinnen Williams and helps to replace the inside free agency departures of Sheldon Rankins and Nathan Shepherd.
"I want to make sure I'm one of those guys getting that quarterback down. I want to make sure I pick up for the guys that we lost," he said. "And I just want to be the leader that I know I am. I want to be out there getting the energy going, getting the guys going, playing with tenacity that's just contagious. I want guys to feed off my energy and feel me. I want to be that sparkplug for this defense.
"I'm excited for my best year of football."
From start, we could say, to finish.