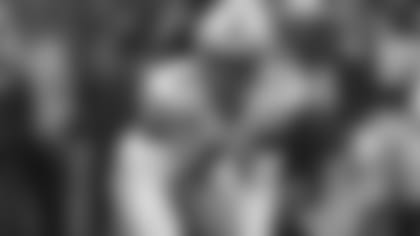 Leading up to the NFL Scouting Combine, we will preview the top prospects in the 2020 NFL Draft based on The Athletic's Dane Brugler's Top-100 list.
Prospect in focus: Ohio State CB Jeff Okudah (6'1", 200) JUNIOR
Overview
Okudah could be the second Buckeye corner to be selected in the top 5 in three years (Denzel Ward — 2018) and the third to be selected in the top 11 in four years (Marshon Lattimore — 2017). Okudah's stats don't jump off the page as he recorded 3 career interceptions, all of which came this season.
"It's all about the traits," The Athletic's Dane Brugler's said. "He came into the year as a projected top-10 pick and that was with one career start and 0 career interceptions. Okudah had a little bit of work to do to show that with all the hype that was being thrown his way, he could live it up to it. This is a former five-star guy, so he understood expectations from the start and what he needed to do. He stepped up this year as a first-year starter, at being the guy with a target on his back. He allowed only 1 touchdown all year."
2019: 34 TKL, 3 INT, 9 PD
2018: 32 TKL, 0 INT, 8 PD
2016-17: 17 TKL, 0 INT, 1 PD
The Scouting Report
Okudah, according to Brugler, often had 1-on-1 matchups without any safety help. He's a willing tackler who shows toughness as a run defender but has room to improve as a finisher. He has "fantastic" lower-body athleticism and above average footwork that Brugler hopes he can improve.
"He's a player that can play zone or man," Brugler said. "He has a keen understanding of different schemes. He has all the physical and mental traits necessary to develop into a No. 1 corner. He's a good-sized athlete, he's going to run in the 4.4's, his foot quickness is fantastic and that allows him to stay attached to routes. He's a very confident player. Being on an island does not faze him. He's able to make contact without drawing flags and that's something that's a subtlety that's a strength to his game. He's able to get physical and be aggressive but do so without attracting the yellow flags from officials."
Brugler added Okudah has the potential to be better than both of his Buckeye predecessors, who each earned Pro Bowl invitations their rookie years. Lattimore, a two-time Pro Bowler, was also named the AP Defensive Rookie of the Year in 2017.
"Okudah reminds me a lot of Denzel Ward except he's two inches bigger and he's longer," Brugler said. "That's something that'll certainly play into his favor. Marshon Lattimore is a little twitchier with his movements than Okudah, but Okudah has all of the athletic traits necessary to be a No. 1 corner and an All-Pro type of player."
Why Jets Fans Should Care
"Jeffrey Okudah he is one of the best defensive talents in this draft class," Brugler said. "It's unlikely he makes it to pick No. 11, but he is a possible trade-up option if he gets out of the top-5 picks."