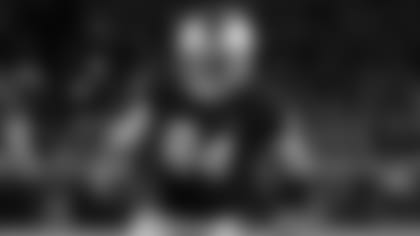 The Jets' tight end position hasn't looked this talented in a number of years and can put the lean seasons of 2015-16 to bed for good.
With Ryan Griffin extending his contract during the season and Daniel Brown re-signing before free agency began, with Chris Herndon back for another restart to his young career and Trevon Wesco showing rookie promise, the position seems in good hands.
The TEs' collective numbers last year weren't overwhelming, yet some metrics were impressive. Their six touchdowns (five by Griffin) tied for the most by the unit since the mid-Nineties. And their 74.6% completion rate (44 catches, 59 targets) is their best in at least the past 23 years.
All of this is a prelude to saying the Jets wouldn't seem to be in the TE market heading into next week's NFL Draft. Yet anything's possible in Joe Douglas' first draft as the Jets' GM, so let's review the handful of top tight ends — a class that one platform states "doesn't have great depth" — available beginning next Thursday night.
Cole Kmet of Notre Dame and Adam Trautman of FCS school Dayton are dueling for head-of-the-class status although neither figures to be selected in Round 1 nor possibly in Round 2.
Kmet (6'6", 262) broke out as an Irish junior last season, coming back in Game 3 from a collarbone fracture to grab 43 catches for 515 yards and 6 touchdowns. In addition to fine size, he's a good athlete — he pitched for the ND baseball team as a freshman, and he was able to propel 37.0" in the vertical jump, the best leap among TEs at the Combine. He's a better receiving prospect than a run blocker at this stage of his development.
Trautman (6'5", 255) did it all as a Flyer. He arrived as a HS quarterback, lined up at TE, slot receiver and wildcat QB as a redshirt freshman, and played four years with great production, capped by a senior campaign in which he had 70 receptions, 916 yards and 14 TDs and was named AP FCS All-America first team and Pioneer League Offensive Player of the Year. At the Combine his 6.78-second 3-cone was second-fastest among TEs since 2013.
Then there are the Bryants.
Knee injuries slowed down Hunter Bryant (6'2", 248) his first two seasons at Washington, but he emerged last year as a junior with 52 catches for 825 yards (15.9 yards/catch) and 3 TDs. He runs the seam routes well and his ball skills are strong but his size is not ideal.
Harrison Bryant (6'5", 243) parlayed good size, nice receiving skills and tenacious blocking as a senior into earning AP All-America first-team recognition and winning the John Mackey Award as the nation's top TE. He improved his receiving numbers each year to finish up with 65 catches for 1,004 yards and 7 TDs last fall.
Here are capsules on some other tight ends that should take us through roughly the first five rounds:
Brycen Hopkins, Purdue (6'4", 245) — The son of former Pro Bowl LT Brad Hopkins grew each year in his five seasons on the Boilermakers campus, winding up with a 17.1 yards/catch average as a redshirt junior and with 61 catches for 830 yards and 7 TDs as a senior, for which he was named AP All-America and All-Big Ten first-teamer and conference TE of the Year.
Albert Okwuegbunam, Missouri (6'5", 258) — Has the look of a boom-or-bust TE with flaws but also with a great size/speed combination. He ran a 4.49-second 40 at the Combine — tied for the eighth-fastest by a TE since 1987 — which helped him succeed in the red zone and compile overall totals of 98 catches and 23 touchdowns in three seasons at Mizzou.
Thaddeus Moss, LSU (6'2", 250) — Another son of a former Pro Bowler, in this case of WR Randy Moss. He transferred from North Carolina to LSU, then sat out two years, the second due to a surgical foot injury. But in his only season with the Tigers last year, he teamed with Heisman winner Joe Burrow for 47 catches, 570 yards and 4 TDs, two of the scores coming in the Bayou Bengals' FBS title game win over Clemson.
Colby Parkinson, Stanford (6'7", 252) — The Cardinal TE machine may have produced another in Parkinson, who's shown the ability to line up all over the field as both TE and WR. He had tame figures as a junior last year (48 catches, 589 yards, only 1 TD) yet was still named an All-Pac-12 second-teamer.