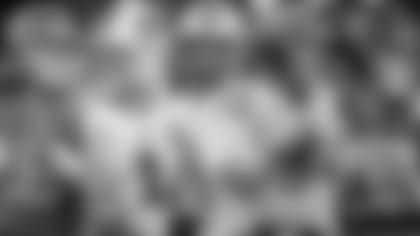 Finally we come to our 2021 draft preview for quarterbacks, the position the Jets would appear to have the most interest in, since after all they traded Sam Darnold to Carolina and GM Joe Douglas allowed that "it's a fair assessment" that they'll take a QB at No. 2.
Assuming Jaguars do what they've telegraphed they'll do and take Trevor Lawrence No. 1 overall, speculation is rampant in these parts that the Jets have their eyes on Zach Wilson, although Justin Fields' name has been floated out there and Trey Lance is gaining some late predraft momentum. All GM Joe Douglas will admit to with his Mona Lisa smile is "We're excited about this class and we're excited about this quarterback class."
Here is a short look at the top five signal-callers in this class, all of whom could go by the end of Round 1 in Cleveland on April 29:
Top of the Class
Trevor Lawrence (6-6, 220), Clemson
The Tigers' splash page for Lawrence says it all: "Recorded one of the most celebrated careers by a quarterback in college football history from 2018-20, leading Clemson to a national championship as a true freshman in 2018 and serving as the face and voice of the sport in the two seasons that followed." His .944 winning percentage (34-2) as a starter is the third-best since the Division I split in 1978. His career stats are awesome: 10,098 passing yards, 66.6% accuracy, a 90/17 TD-to-INT ratio, plus 18 more rushing touchdowns, all in 40 career games (36 starts). He finished as a finalist for a number awards, including the Heisman. His size is great, his hair flip is great. And no doubt his ability to overcome any shortcomings (turnovers?) is great, which is what the Jaguars presumably are counting on.
Zach Wilson (6-3, 210), BYU
The NFL hype machine thinks Wilson's heading to the Jets. He wowed Douglas and the assembled NFL scouts at his pro day, when among his throws were off-balance, on-target 50-yarders, all with the goal, he said, "to kind of show what makes me different." He also did that with his 2020 season, when he completed 73.5% of his passes — No. 2 accuracy in the FBS — threw for 3,692 yards and 33 TD passes to 3 INTs, ran in 10 more TDs and earned a piece of the Polynesian Player of the Year award. BYU's schedule was not a killer, but as Joe D said, "ultimately that's not the player's decision." What has been Wilson's call has been to work on his decision-making and put himself in the best position for draft night.
Justin Fields (6-2½, 227), Ohio State
Can a QB be a hybrid dual threat? Maybe that's Fields, who has a running dimension but is described by Lance Zierlein on nfl.com as "more of a pocket passer with the ability to extend plays or win with his legs when needed." To help him do that, Fields turned on the jets for a 4.44-second 40-yard dash at his recent pro day. As for this past year, the regular season was as usual outstanding (70.2% accuracy, 2,100 yards, 22 TDs, 6 INTs along with 81 rushes for 383 yards), his Buckeyes postseason less so — a scuffling showing in beating Northwestern, a gutty win over Lawrence and Clemson, then a loss to Jones and 'Bama in the title game. He'll need technique work against NFL pass rushes and blitzes.
Best of the Rest
Trey Lance (6-4, 224), North Dakota State
Lance could be moving up on the outside as this draft season heads down the stretch. Suffice it to say many analysts see him as one of four QBs who could be snapped up in the top 10 picks. Lance reached that rare air as a 2019 redshirt freshman when he threw 287 passes for 28 touchdowns and NO (!) interceptions while leading unbeaten NDSU to the FCS national title win. He also ran for 1,100 yards and 14 more TDs and claimed the Walter Payton, Jerry Rice and Missouri Valley Conference Offensive Player of the Year awards. He opted out of North Dakota State's '20 season, delayed till this year, to prepare for the draft. He's inexperienced and needs to become less pocket-antsy as a pro.
Mac Jones (6-2½, 217), Alabama
Where will Jones go? No one's sure. Chad Reuter mocks that he'll be taken 11th by the Bears after a trade with the Giants, while Daniel Jeremiah says he'll board the Buccaneers' Super Bowl pirate ship at No. 32. For sure he's got first-round talent. With help from an excellent stable of RBs and WRs, Jones lit things up as a redshirt junior this past season to the tune of 77% accuracy, 41 TD passes to 4 INTs and 4,500 passing yards in 13 games. He then won his second national title (and first as the 'Bama starter) while corralling consensus All-American honors plus the Unitas Golden Arm, Manning and O'Brien awards. Jones answered questions about his athleticism with a better-than-expected pro day.
Day 3 Diamond
Kellen Mond (6-3, 211), Texas A&M
There is a chasm between the top 5 QBs in this draft, all mentioned above, and the rest of the field. Florida's Kyle Trask could go on Day 2 and Mond could be the seventh taken off the board. He's a dual-threat performer who gained confidence in each of his four seasons starting for the Aggies, although he has shown accuracy, decisiveness and anticipation issues that could drop him into Day 3. His numbers fell off slightly in his 10 games as a senior but his totals the past 3 seasons included 63 TD passes to 21 INTs, 8,826 passing yards, 1,268 rushing yards and 19 rushing TDs. And he crowned it all with an Orange Bowl win over North Carolina and MVP honors at the Senior Bowl.