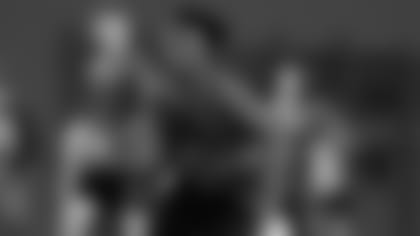 A Green & White talking point whenever general manager Joe Douglas and head coach Robert Saleh talk with reporters is that this offseason is about many things, and one of those most important is surrounding second-year starting QB Zach Wilson with talent.
"I think there are lots of ways we can help our young quarterback," Douglas said last month at the NFL Combine. "When a young quarterback's playing with a 14-point lead vs. trying to come back from a 14-point deficit, if we can put pieces around him to make sure he has the lead instead of playing from behind, the young quarterback's going to be in better position to succeed."
Wide receivers are among the most desirable of those playmaking pieces being discussed among media and fans. The Jets were seeking one of those wideouts in free agency when they made a pitch to trade for Tyreek Hill with Kansas City, and the NFL rumor mill has churned out other possible trade targets.
Then there is the NFL Draft, where a plethora of pass-catchers resides from around No. 8 overall well into day three. Here are six of the choicest choices available in Las Vegas, and they probably won't even get us out of Round 1 on the night of April 28:
Top of the Class
Garrett Wilson (6-0, 203), Ohio State --- Wilson has an interesting style mix. He's got athleticism, coupling his top Texas HS football career with some Division I college basketball scholarship offers. He showed 4.38-second speed in the 40 at the Combine. Some draft observers say he's not as polished as desired in getting off press coverage and going from point A to point B, but he's got "instant acceleration" and his ball skills at and after the catch are impressive. He tied for eight in FBS last season with 12 receiving TDs, with 27 catches, 371 yards and 6 TDs coming over his last three games.
Drake London (6-4, 210), Southern Cal --- London also showed multisport chops on the gridiron and on the court. He dressed for two games for the Trojans basketball team in 2019-20 and told ocregister.com of his NBA dream, "It's still out there ... but definitely focused on this now." This being his football skills. He used his outstanding size to cap his USC career with 88 catches for 1,084 yards and 7 TDs — in only eight starts, since he missed the end of the season with a broken ankle. There are some separation concerns but his ball skills are special.
Best of the Rest
Jameson Williams (6-2, 188), Alabama --- Williams has the athleticism tag. As nfl.com's Chad Reuter relates, he scored 22 TDs as a St. Louis HS senior and also broke Ezekiel Elliott's state record — in the 300-meter hurdles. He also showed deft moves to leave the crowded Wilson/Olave Ohio State WR position through the transfer portal to 'Bama, where he starred last year with 79 receptions, 1,572 yards and 15 TDs in 15 starts. That earned him first-team berths on the AP All-America and All-SEC teams. His lay in the National Championship Game also got him a torn ACL, which he is still rehabbing from.
Treylon Burks (6-3, 232), Arkansas --- Burks doesn't have top-end WR speed (sluggish Combine times of 4.55 in the 40 and 7.28 in the 3-cone). But he has strong hands, an excellent YAC dimension and versatility that allowed the Razorbacks to line him up at X, in the slot and in the backfield. He capped his three-year Arkansas career with 66 catches, for 1,104 yards, 11 TDs and a school-record six 100-yard games in 12 starts, all of which earned him All-SEC first-team honors.
Chris Olave (6-0, 187), Ohio State --- Olave teamed with Wilson for a dynamic WR one-two punch for the '21 Buckeyes. He's a smooth route runner, efficient in his movements, but packs a burst with 4.39 speed in the 40, virtually a match with Wilson's speed. Statistically and anecdotally, his 13 TD catches last season tied for sixth in the FBS and gave him 35 for his OSU career, topping Santonio Holmes, David Boston and Cris Carter. He'll need to improve his play strength as a pro.
Jahan Dotson (5-11, 178), Penn State --- Some draftniks are touting Dotson as a possible T.Hill 2.0 to the Chiefs late in Round 1. He's certainly worked his way into the conversation with the bigger wideouts, considering his speed (4.43 in the 40 at the Combine) and his team-leading senior numbers for the Nittany Lions (91 receptions, 1,182 yards and 12 TD catches in 12 games). Lance Zierlein on nfl.com loves his athleticism, not as much his physicality, which will be tested in press coverage in the pros.
Day 3 Diamond
Justyn Ross (6-4, 210), Clemson --- When Ross was healthy, he led the Tigers in receiving yards as a true freshman and earned All-ACC honorable mention as a sophomore. Then came the physical woes. He lost all of 2020 due to a congenital spinal fusion condition. Surgery corrected that, but last year he fought through a bad case of COVID and a foot stress fracture. He clearly showed his grit in returning to action and production last season (46 catches, 514 yards, 3 TDs in 10 starts) and has very good size and speed. He'll be a day three draft feelgood story. Then the hard work, sticking around as a pro, will begin.