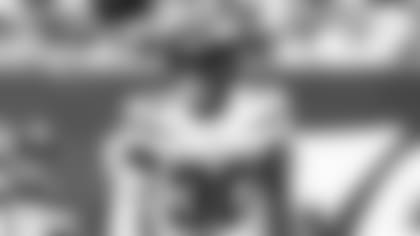 Entering the team's bye week, the Jets' rookie class took the most snaps in the NFL with 1,739, according to TruMedia. The Green & White's rookies ranked second in offensive snaps and fourth in defensive snaps. Below is a look at how their playing time has been distributed.
QB Zach Wilson, the No. 2 overall pick in April, and LG Alijah Vera-Tucker, selected No. 14 overall, have played all of the team's 293 offensive snaps. Vera-Tucker has taken an additional 11 snaps on special teams for a total of 304, the most of all the Green & White's rookies. Wilson has thrown for 1,117 yards, 4 TDs and 9 INTs while completing 57.3% of his passes through his first 5 games in the NFL.
Next is Michael Carter II, the team's fifth-round pick and starting nickel corner. Carter II has taken 267 total snaps, 223 on defense and 44 on special teams. He ranks third on the team with 27 tackles to go along with 2 tackles for loss, 2 pass defenses and 1 fumble recovery.
Carter II starts alongside fellow rookie CB Brandin Echols, who was drafted in the sixth round. Echols has participated in 218 snaps (195 on defense, 23 on special teams) and he has 22 tackles and 2 PDs.
WR Elijah Moore, the Jets' second-round pick, is next with 150 (151 offense, 4 special teams) followed by LB Jamien Sherwood 150 (85 defense, 65 special teams), RB Michael Carter 135 (127 offense, 8 special teams) and LB Hamsah Nasirildeen 116 (47 defense, 69 special teams).
Moore has started in three of the four games he's played in, totaling 8 receptions for 66 yards. Carter has also started in three games and has 47 rushes for 165 yards (3.5 avg) and 2 TDs.
K Matt Ammendola has appeared in 35 snaps followed by CBs Isaiah Dunn 31 (3 defense, 28 special teams) and Jason Pinnock 19 (all on special teams). The other two rookies who have played this season are DT Jonathan Marshall 8 (7 defense, 1 special teams) and TE Kenny Yeboah 5 (all special teams).
Ammendola has made six of his seven field goals (85.7%) and three of four extra points (75%). He also has a 61.1% touchback rate on kickoffs and punted 6 times when Braden Mann sustained a knee injury in the season opener.
The Green & White have had played 13 rookies -- their 10-player draft class and 3 undrafted free agents.