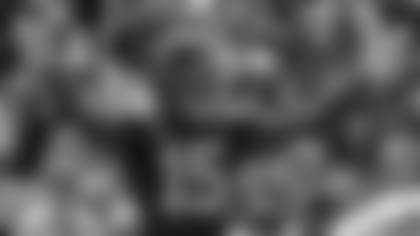 The Jets are set for 2020 with Jamal Adams and Marcus Maye as their frontline safeties, both high draft picks out of the Southeastern Conference and both starting their fourth seasons.
But for teams searching for a playmaker in the deep middle or down in the box, the SEC offers a pair of probable first-rounders in this month's NFL Draft.
Xavier McKinney of Alabama is the shorter of the two at 6'0" and 201 pounds but still packed a punch for the Crimson Tide, especially in his last two campaigns, when he combined for 169 tackles, 6.0 sacks, 5 INTs (2 returned for touchdowns), 15 PDs and 6 forced fumbles (4 last year). He was named Orange Bowl Defensive MVP as a sophomore and All-SEC first-team as a junior. He possesses great football intelligence and on-field diversity since he played deep, in the box, and at corner during his 'Bama career.
What's in the water that they serve LSU safeties? Following in the footsteps of Tigers greats Adams, LaRon Landry and Tyrann Matthieu, Grant Delpit seems poised to make a hard-hitting impact in the NFL. Draft analysts are split on whether he or McKinney is this year's top safety, primarily due to Delpit's less prominent 2019 after his coming-out party in '18, when he was a unanimous All-America first-teamer with a conference-leading 5 INTs and 5.0 sacks. Last year he won the Thorpe Award and second All-SEC first-team honor but with 2 INTs and 2.0 sacks.
Do we need to say that Antoine Winfield Jr. is the son of former All-Pro CB Antoine Winfield Sr.? The younger man at 5'9" and 203 pounds, had trouble getting his Minnesota career under way after hamstring and foot injuries cut short both his 2017 and '18 seasons after four games. But he emerged as a Gophers redshirt senior with seven INTs, one returned for a TD, 2 forced fumbles, 3.0 sacks and 83 tackles to earn All-Big Ten and AP All-America first-team nods.
Ashtyn Davis, out of Cal also merits some consideration. In his redshirt junior and senior seasons the past two years he combined for 6 interceptions and 3 fumble recoveries, not a bad takeaway haul. He's not an instinctive safety but with good reason — he received a Golden Bears scholarship in track and was a football walk-on. The 6'1", 202-pounder only lifted at the Combine due to injury but was a top Cal hurdler with a win in the 110-meter hurdles at the 2017 Pac-12 championships.
One more safety in our top five is Kyle Dugger, who figures to be the first selection out of Division II Lenoir-Rhyne in 20 years and the first DB drafted from the Bears' program ever. And there's high NFL interest in the 6'1", 217-pounder despite playing only seven games as a redshirt senior last year due to a hand injury. He was also a medical redshirt in 2016. Still, his totals in four LR seasons is impressive: 42 games, 10 interceptions (one returned for a touchdown), 36 pass defenses, 6 forced fumbles and 6 recoveries. And on specials: 6 punt-return TDs (2 last year). Then at the Combine he topped all safeties with a 42.0" vertical.
Here are several other safety prospects whose names are likely to be called in Day 2 or 3 of the draft:
Jeremy Chinn, Southern Illinois (6'3", 221) — Four-year Salukis starter with career totals of 13 INTs, 31 PDs, 6 FFs and 243 tackles. Has great size, 4.45 speed and nice athletic ability — he topped all defensive players at the Combine with an 11'6" broad jump.
Terrell Burgess, Utah (5'11", 202) — Didn't start his first three seasons for the Utes but put it all together as a senior with 14 starts, his only career college INT, 6 PDs, 81 tackles and 7.5 TFLs. After the season earned All-Pac 12 honorable mention and his second Pac-12 All-Academic selection.
K'Von Wallace, Clemson (5'11", 206) — Stepped up his game as a junior for Tigers' national championship team in '18 (15 starts, 1 INT, 7 PBUs, 2 FFs) and continued his production as a senior (2 INTs, one returned for TD, team-high 10 PDs). Topped all defenders at the Combine with a 6.76-second 3-cone drill.
Julian Blackmon, Utah (6'0", 187) — Played CB as a soph and junior, then teamed with Burgess in the Utes' deep middle as a senior last year (13 starts, 60 tackles, team-leading 4 INTs) before suffering a non-contact knee injury in Pac-12 title game. The injury and his position switch could make him attractive in the later rounds.