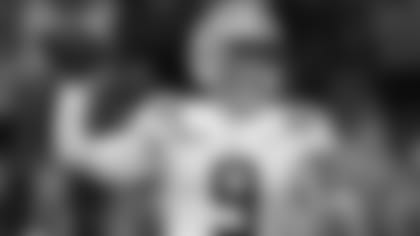 Quarterbacks will always rise in the NFL Draft. But this year's QB class seems just a little different than usual because the top seven or so signal-callers seem to have risen in the same order in many draft evaluators' mocks.
At the top of the list, you may have heard, is LSU's Joe Burrow. Many — make that most — of the mocks these days has him going first overall. He won't be striding across the stage in Las Vegas to hug NFL commissioner Roger Goodell and accept the applause of the football nation due to the change in draft plans brought about by the COVID-19 situation.
But if the Bengals take him, that would help balance the Buckeye State scales. Burrow hails from Athens, OH, was a two-time state player of the year in high school and went to Ohio State, where he mostly rode the bench for three seasons.
Then the 6'3", 221-pounder transferred to LSU and over two years brought his college career to a very loud crescendo. As a redshirt senior he led the nation with 76.3% passing accuracy, 5,671 yards and an NCAA-record 60 TD passes to 6 interceptions. The Tigers followed suit with the national title and Burrow raked in a crazy haul of hardware: the Heisman Trophy, Maxwell, the Walter Camp Player of the Year, Johnny Unitas Golden Arm and Davey O'Brien awards, and unanimous AP All-America and SEC Offensive POY honors.
Tua Tagovailoa is still No. 2, although many mockers have him slipping out of the top three. The 6'0", 217-pounder was enjoying a superb third season at Alabama, completing 71.4% of his throws, 33 of them going for touchdowns and only three for interceptions before suffering his season-ending hip dislocation in mid-November. Surgeons involved in TT's surgery and rehab say he should be fully healthy to participate in his team's training camp.
And Tide coach Nick Saban captured the Tagovailoa package when he said this week that "Tua is a great competitor, and I think one of the things we've tried to talk to him about is most of his injuries that have occurred here are because he extends plays," such as the play vs. Mississippi State on which he hurt his hip.
Justin Herbert bounced back from his 2018 season, when he rushed his throws to the off tune of 59.4% accuracy and Oregon's 9-4 record, to excel as a senior in '19 — 66.8%, career-high 32 touchdown passes to 6 INTs, plus 4 more rush TDs as the Ducks went 12-2. At 6'6" and 236, he's got great size, mobility and athleticism (7.06 seconds on the 3-cone, best among all QBs at the Combine). And intelligence? He was named Academic All-American of the Year for 2019.
Which Jordan Love will the team that plucks him in the draft get? The one from his redshirt sophomore season in '18 when he fired 32 touchdown passes — eighth-most among FBS QBs — (to 6 INTS)? Or the one from last year when he threw up an FBS-high 17 INTS (to 20 TDs) and compiled a 7-6 W-L record? A new staff and new starters contributed to the downward trend for the 6'4", 224-pounder but so did some bad habits.
The next six QBs all pretty much fell into the same spots on line from one analyst to the next:
Jacob Eason, Washington (6'6", 231) — He was the top pro-style HS quarterback in the Seattle area. Bumped by knee injury and Jake Fromm from the U. of Georgia, he transferred back home to Washington and enjoyed one strong Huskies season as a redshirt junior last year (64.2% accuracy, 23 TDs, 8 INTs). Great size, strong-armed and accurate, but not mobile in the pocket.
Jake Fromm, Georgia (6'2", 219) — Initially committed to Alabama but then decided to stay in-state at UGa and won the QB job after Eason's injury as a true freshman in '17. In three seasons as the Bulldogs' offensive trigger man he threw 78 touchdown passes to 18 interceptions and compiled a 35-7 record and last year he was Georgia's permanent team captain and Offensive MVP. Not a physical specimen but heady.
Jalen Hurts, Oklahoma (6'1", 222) — Has had quite the college journey, from leading Alabama to the FBS title game as a freshman in 2016 to a national title win the next year to ceding the starting job to Tagovailoa the next year to transferring as a grad student to OU for last season. 2019 stats: 69.7% accuracy, 32 TDs to 8 INTs, 1,298 rushing yards and 20 more TDs to lead the Sooners. He's been compared to Tim Tebow, a strong leader, a better passer and runner but still inconsistent in the pocket and quick to scoot.
Anthony Gordon, Washington State (6'2", 205) — Selected by the Mets in the '15 MLB Draft but went football with City College of San Francisco. Transferred to WSU, redshirted in '16, didn't play in '17 and played behind Gardner Minshew in '18. Last year he finally took the Cougars' reins and finished No. 2 nationally to Burrow with 5,579 passing yards and 48 TDs (to 16 INTs). Yet he's a gunslinger with just 14 college starts.
James Morgan, Florida International (6'4", 229) — After transferring from Bowling Green to FIU, he put up two-year totals of 61.5% accuracy, 40 TDs and 12 INTs. Good arm, nice touch, not very mobile or pocket-aware.
Tyler Huntley, Utah (6'1", 205) — Played four seasons for the Utes and had a strong senior campaign with 73.1% accuracy (second to Burrow nationally), 19 TD passes and a mere 4 INTs, 5 rush TDs and an 11-3 record.