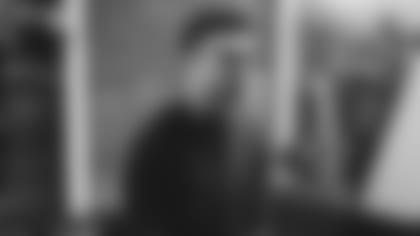 Jets former wide receiver Quincy Enunwa was a muscled-up target for the Jets when lining up at 6-2, 225 pounds. He played big but few NFL wideouts possess the height that new Jets WR Allen Lazard will bring to the field.
"It's funny," Enunwa told team reporter Eric Allen on the latest edition of "The Official Jets Podcast.". "I've watched clips of his highlights and didn't know he was that big [6-5, 227]. Big body guys are going to make plays for you. And anybody who plays with [QB Aaron] Rodgers, he's going to improve your game. He continued to grow and learn, and there was a moment when he wasn't going to make the team and Rodgers made a call for him. Rodgers believes in him, he sees the talent in him. You will know exactly what he [Rodgers] wants."
The addition of Lazard gives the Jets a formidable group of WRs that includes, at present, Offensive Rookie of the Year Garrett Wilson, Elijah Moore, Corey Davis and Denzel Mims; plus a trio of tight ends in C.J. Uzomah, Tyler Conklin and Jeremy Ruckert.
Over the past two seasons in Green Bay, Lazard played in 30 games, had 100 receptions for 1,301 yards and 14 TDs. Not bad for an undrafted free agent out of Iowa State, the same place RB Breece Hall played several years later.
While Lazard qualifies as the team's marquee free-agent signing so far, general manager Joe Douglas has continued his scrupulous approach when adding players. Early on, the Jets re-signed UFAs DL Solomon Thomas, LB Quincy Williams and kicker Greg Zuerlein; and have lost Sheldon Rankins (Houston) and Nathan Shepherd (New Orleans) along the defensive line.
On the re-signing of Williams, Enunwa said: "It was the right decision from the perspective of a talented linebacker and a spark plug. It's also in terms of making your players happy. His brother [Quinnen] is on the team. He's a good player, he made a great choice."
He added: "The surprising thing about linebackers is that they have long careers and to be as young as he is [26] and to perform in the right system with the right pieces around him. A lot has to do with the line creating spaces and him fitting into the gap."
Douglas and the Jets did pick up a pair of versatile veterans in OL Wes Schweitzer, defensive back Chuck Clark (in a trade with Baltimore), OL Trystan Colon and P Thomas Morstead (who spent time with the Jets in the 2021 season).
Schweitzer, 29, has taken snaps at every offensive line position since being drafted by the Falcons in sixth round in 2017 out of San Jose State. He's played at left guard (2,219 snaps), right guard (1,979), center (430), left tackle (3) and right tackle (1).
"The more you can do in the NFL is what it's about," Enunwa said. "When you look at the O-line from last year, you need that. There was talent across the board, but not enough depth. [It's important] to have another guy like AVT [Alijah Vera-Tucker] who can play multiple positions, to have someone who can go in and fill that spot."
On Clark, who has missed only one game in six NFL seasons (in his rookie year of 2017), Enunwa said: "When you bring in guys who are great on and off the field [he was the Ravens' 2022 nominee for the Walter Payton Man of the Year Award], it also speaks to the competition they bring. Guys who have the ability to stay on the field, take a lot of reps, come into the room and push these guys ... it's a great addition."
Jets Propose Rule Change at Annual League Meeting
This weekend will mark the start of the NFL's Annual League Meeting at The Biltmore in Phoenix, AZ. The sessions run through next Wednesday. It will be the second time since 2019 that the event has been held in person -- because of the coronavirus pandemic the League Meeting was canceled in 2020 and held virtually in 2021.
In general, rule and policy changes, which are usually vetted, voted on and perhaps scheduled to be implemented, will be on the table in Phoenix.
Suggestions are considered by the 10-member Competition Committee, which then presents proposals to the owners. Any change must garner 24 votes from the 32 team owners.
This year, the Jets have offered an amendment to Rule 12, Section 2, Article 6 to expand the crackback prohibition to players who go in motion and go beyond the center to block (a "split-flow block") a defender below the waist.
Other Proposed Rule Changes
The Jets' proposal is one of 10 the owners are expected to consider. Following are a few of the more significant proposed changes.
• The L.A. Rams have proposed to make roughing-the-passer penalties reviewable via instant replay. In general, subjective calls are less likely to be subject to review.
• The league and the committee are discussing the possibility of making hip-drop tackles illegal. The tackling technique was blamed for the ankle injury sustained by Chiefs' QB Patrick Mahomes.
"That's relatively new, from a study perspective for the health and safety side," Jeff Miller, the NFL's executive vice president of communications, public affairs and policy told The Washington Post. "So there's a lot more that needs to be done."
• The proliferation of plays where quarterbacks are pushed forward in short-yardage situations is being vetted and a rule barring the play is under discussion.
• The Eagles want to amend Rule 5, Section 1, Article 2, to permit the use of zero (0) as a jersey numeral; and to allow kickers and punters to use any jersey numeral between 0-49 and 90-99.
• To help cut down on injuries during punts, similar to rule changes implemented on kickoffs in 2018 to limit concussions and other injuries, one possibility would be eliminating the double-teaming of gunners, who line up wide on punts.
• The Eagles have come up with an interesting alternative to onside kicks. An amendment to Rule 6, Section 1, would permit a team to maintain possession of the ball after a score by substituting one offensive play (fourth-and-20) from the kicking team's 20-yard line) for an onside kickoff attempt.