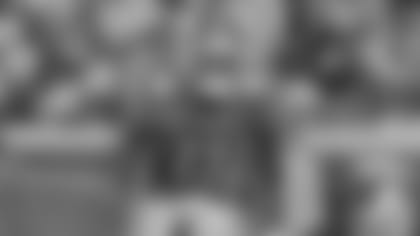 The Jets, after a season of next-man-upping all along linebackers row, wouldn't seem to be in urgent need of LBs in the first few rounds of the NFL Draft.
Other than edge rusher, a separate breed of 'backer to be sure, at the moment they've got C.J Mosley and Avery Williamson on the inside, being pushed by Neville Hewitt and James Burgess, who both played well when pressed into starting duty last year, plus now second-year man Blake Cashman and newly signed Patrick Onwuasor. OLB Jordan Jenkins has been re-signed and is backed up by Tarell Basham, Harvey Langi and Frankie Luvu, while Brandon Copeland has gone off and signed with the Patriots.
But we know how drafts go. Even though the Jets wouldn't seem to be in the market for one of the top three LBs in the now virtual draft that's now two weeks and a day away, they could be looking competition to the position or the best available athlete to the roster.
Of the aforementioned top three, Isaiah Simmons is the consensus No. 1 linebacker, projected by a variety of draft observers to go anywhere from fourth to 10th. The 6'4", 238-pounder from Clemson first showed his promise by leading the Tigers in tackles as a redshirt soph during their national title season. As a junior last year he raked in all the numbers and honors — 104 tackles, 16.5 tackles for loss, 8.0 sacks, 3 interceptions and 8 pass defenses, ACC Defensive Player of the Year, the Butkus Award as the nation's top 'backer and AP All-America first-team.
The Simmons athletic package was underscored when he ran a 4.39-second 40 at the Combine, not only tied for second among all defensive players this year but second-best among all LBs dating to pre-electronic timing in 1987.
As for Nos. 2 and 3, they're about as close as close can be. In fact, when the latest picks by 15 mock drafters at NFL.com and CBSSports.com were totaled, Oklahoma's Kenneth Murray had an average slot of 22nd in the first round while Patrick Queen of LSU came in 23rd on average.
Murray (6'2", 241) ran a 4.52 he wasn't happy with in the Combine 40, then didn't run at his pro day due to a hamstring tweak. But he assured when all is right, he'd run "in the low 4.4s, for sure, without a doubt." He put that speed on display as the Sooners' three-year starter, chalking up 155 tackles — third-most in the FBS — in 2018, then hitting a career high with 17.0 tackles for loss as a junior last year.
Queen came on as a first-year starter in his junior campaign in 2019, which of course also was LSU's national championship season as well. He racked up 85 tackles, 12 TFLs, 3 sacks, an interception and a fumble recovery for the LB-savvy Bayou Bengals. He is on the smallish side but has a high upside for a team whose scheme will keep him clean.
Here are a five more linebackers who are candidates to be called in the first two days of the draft (not including Zach Baun and A.J. Epenesa, who were listed at edge rusher):
Troy Dye, Oregon (6'3", 231) — Comes from a football family and really rang up the numbers in college. Not only was he a four-year starter at UO but also led the Ducks in tackles all four seasons. His career numbers: 391 tackles, 41.5 for loss and 13.0 sacks. He also showed coverage skills with 14 pass defenses and 5 INTs, and returned a fumble for a TD in 2017. Possesses good locker room presence and high football IQ but slight frame.
Malik Harrison, Ohio State (6'3", 247) — Was a three-year starting QB at his OH high school but flipped to LB with OSU to see the field more. Played all four seasons with the Buckeyes and started the last two, combining those two years for 156 tackles, 25.0 for loss and 7.0 sacks. Earned All-Big Ten first team as a senior. Showed his change-of-direction speed with a 6.83-second time in the 3-cone, lowest among all LBs at the Combine.
Jordyn Brooks, Texas Tech (6'0", 240) — He became the first Tech freshman in more than two decades to lead the defense in tackles and went from there to compile four-year career totals of 360 tackles, 32.0 for loss and 6.5 sacks. His 1.82 TFLs/game (20.0 TFLs in 11 games) was No. 2 in the nation and helped earn him All-Big 12 first-team and AP All-American second-team honors. Given name is Jordan but he styles his name now with a Y.
Akeem Davis-Gaither, Appalachian State (6'1", 224) — Packed big plays into his small body as he was named Sun Belt Conference Defensive Player of the Year as a senior with 104 tackles, a team-high 14.5 TFLs, 5.0 sacks, an INT and a blocked kick in his 14 starts. He adds 15 pass breakups in his last two seasons combined, although one of his red flags is that he was more comfortable in college as a pass rusher than in coverage.
Jacob Phillips, LSU (6'3", 229) — Was a leader on the Tigers' national title team last year, starting all 15 games in the middle of the D and posting a team-high 113 tackles (7.5 for loss). Also had 87 tackles in 2018 and returned an INT for a TD. Scouts worry about his strength and explosiveness but note his special teams potential.