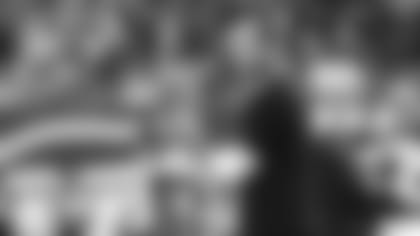 Robert Saleh's Head-Coaching Debut
The last time Jets HC Robert Saleh experienced a regular-season game, he was the 49ers' defensive coordinator. Leading up to his first game as the head coach of the Jets, Saleh may naturally spend more time with DC Jeff Ulbrich and the defense, but he's also heavily involved with the OC Mike LaFleur and the offense.
"It was third-down day and [LaFleur] was just throwing some ideas at me and just talking from a schematic, 'Hey, what do you think they're trying to do here?' " Saleh told reporters on Monday. "So, just being involved as best as I can in all three phases and trying to keep everybody with messaging and making sure that we're all focused on what do we need to do to win this game, offensively, defensively and on special teams. Obviously, I'm going to lean a little bit more on defense but being able to go in there and have those interactions with the offense and being able to spend some time with them as they formulate their plans is actually kind of fun for me, to be honest with you."
Saleh is able to watch all of the meeting rooms from his office, a trick he brought to his office in Florham Park from 49ers HC Kyle Shanahan. Saleh is a ball of energy on the sideline, but he's zeroing in on preparation.
"As we get closer, just like being a position coach and a coordinator, my blood starts flowing a little bit faster, which is natural," Saleh said. "Right now, it's all about the players and giving them every opportunity and all the focus is on them to help them make plays on Sunday, that's most important.
"Everything is about them because at the end of the day, they're the ones that are putting on the uniforms, they're the ones inside the white lines, they're the ones that have to execute at a very high level. It's our job to make sure they're given every opportunity to do that. Not to underscore the question, I'm sure I'll be amped as all heck on Sunday. But right now there's calm and preparation that has to take place."
Zach Wilson's NFL Debut
After an impressive preseason, Jets rookie QB Zach Wilson is gearing up for his first NFL regular-season game.
Wilson, the No. 2 overall pick in April, led scoring drives on four of his six preseason drives (2 TD, 2 FG). He completed 15-of-20 passes (75%) for 191 yards and 2 TDs for a rating of 137.7. He'll be lining up against a young, fast Panthers defense that ranked No. 18 in total defense last season, giving up 360.1 yards per game. Carolina's 22 takeaways in the 2020 season tied for ninth in the NFL.
"I hope I can just be a guy that stays in the pocket 100 percent of the time and just get the ball out of my hands and make plays and throw, but stuff is going to happen in games," Wilson said. "Pocket is going to break down, they're going to give us a defense that maybe our plays don't work against and I'm going to have to figure out how to get out, dirt the ball, extend something and then be aggressive down the field but not turn the ball over and understand when to take that risk and maybe go run for a first down. That kind of stuff is really going to come into play once we get into real games."
Familiar Faces in Unfamiliar Colors
The Jets will line up against a handful of familiar names on Sunday at Carolina, notably QB Sam Darnold, who was traded to the Panthers in April. Other former Jets on the Panthers include WR Robby Anderson, OL Pat Elflein, LB Frankie Luvu, LB Julian Stanford and S Juston Burris. QB James Morgan is on the Panthers' practice squad.
"We know he can make all the throws, his arm talent is very high," S Marcus Maye said of Darnold, his teammate for three seasons. "He does well with off-schedule with his feet and things like that, so we just got to play sound, give him different looks, pressure the pocket, not let him get comfortable and get physical outside with those guys."
Saleh added on Anderson, who had a career best 95 receptions and 1,096 yards last season, his first with the Panthers: "He's got tremendous vertical speed. Obviously, you got to know where he is because of his ability to blow the top off in coverage and win one-on-ones and especially vertically. He's a very talented young man. He's got a lot of fight in him, too. His mindset, he's built the right way. He's going to be a definite challenge to deal with."