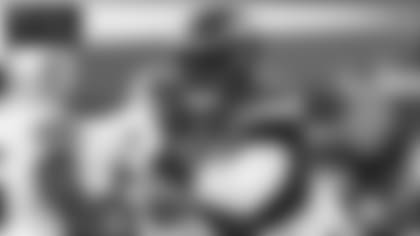 Containing Maxx Crosby
Coming off a game where the Jets allowed 8 sacks, the offensive line will line up against Raiders two-time Pro Bowl DE Maxx Crosby, whose 9.5 sacks is tied for second-most in the NFL this season. Crosby had a game-high 3 sacks and 7 pressures last week against the Giants, and generated pressure against five different blockers. Of Crosby's 591 snaps this season, 475have come on the left side of the defensive line.
If the Jets start the same line combination, Billy Turner would likely line up against Crosby the most. But if Duane Brown is activated off injured reserve, it could change the line.
"We'll see how Duane feels," HC Robert Saleh said. "We've got to go through some practices with him still before we make the decision on activating him."
Las Vegas has 24 sacks this season, tied for No. 13 in the NFL, but no other player other than Crosby has more than 2 sacks.
Jets Defensive Line vs. Aidan O'Connell
Raiders rookie starting QB Aidan O'Connell got his first win in the NFL, 30-6 over the Giants, in Week 9. O'Connell threw for 209 yards, 0 touchdowns and 0 interceptions, but he wasn't under duress in the pocket. He was pressured on 4 of his 25 dropbacks, which is a 16.0% pressure rate.
Since Week 5, Jets defensive linemen Bryce Huff, Jermaine Johnson and John-Franklin-Myers all rank among the top 5 among edge defenders in pressure rate (min. 70 pass-rush snaps). Huff leads the league at 32.5%, Johnson is No. 3 (20.9%) and Franklin Myers is No. 5 (19.6%).
The Green & White sacked Chargers QB Justin Herbert a career-high 5 times on Monday night, which marked the fourth game with the defense had at least 4 sacks this season. Only the Ravens (6) and Eagles (5) have more. The Raiders have allowed 22 sacks this season, which is tied for No. 18 in the league.
Schedule Tweaks
The Jets are in the middle of a five-game stretch where they will have different start times. They played "on the road" against the Giants before last week's Monday night game against the Chargers. Now the Green & White will play back-to-back road games – at the Raiders on a short week (8:20 p.m. on Sunday) and at Buffalo (4:25 p.m. on Nov. 19) before hosting the Dolphins for the first game on Black Friday, Nov. 24 (3 p.m.).
"This year our schedule feels like it has been all over the place," HC Robert Saleh said last Friday. "We have four games in 19 days coming up over the next month. I was laughing with [Steve Scarnecchia], our chief of staff, because today is Friday, but it is a Wednesday schedule with a Thursday practice, so there is all kinds of things going on. It's OK to continuously change the stimulations. I think it's actually better than getting into the monotony of the same old, same old. The times change, the schedule changes, it keeps you on your toes, keeps you alert, keeps you locked in, so there are positives to it."