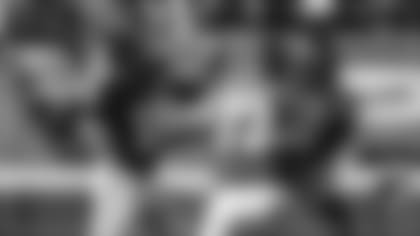 Patrick Mahomes, Chiefs OL vs. Jets DL
The Jets defensive line had one sack in the last two games, but as head coach Robert Saleh said earlier this week, the box score does not tell the full story.
"We're getting to the quarterback, we're affecting them," Saleh said. "When you feel like the quarterback is speeding up his rhythm, you're going to get some turnover-worthy throws, which we've had the last couple weeks.
"As long as we keep rushing the way that we are, if they feel like hitching, they're going to go down. If they want to speed up their rhythm, we have to take advantage when they throw it to us."
The Jets have to apply pressure to Chiefs superstar QB Patrick Mahomes, who has been pressured on a career-low 25.4% of his dropbacks this season, for a chance to win Sunday night. He's protected by an offensive line with a stout interior in LG Joe Thuney, C Creed Humphrey and RG Trey Smith. Humphrey and Thuney did not allow a pressure on any of their 41 pass-blocking snaps last week and Humphrey has allowed 1 pressure on 131 pass blocking snaps this season.
"This offensive line is probably the best that we've played all year through over the first three games, so it's going to be a challenge for our D-line," Saleh said.
Off the Chart Chemistry
The Chiefs have one of NFL history's best tight ends in Travis Kelce. What makes him so good aside from his talent, is his advanced chemistry (that could be putting it lightly) with Mahomes. Sometimes Kelce will run a different route than what the play is called for, like he did on his touchdown against the Bears.
"It's crazy, actually," CB D.J. Reed said. "Watching Kansas City last year, I'm not going to lie, when the playoffs came, I was thinking it's going to be tough for them to win the Super Bowl. I was just thinking that, but then just watching them and the chemistry that Mahomes and Kelce have is pretty exciting to see. For some reason, he's always open. Even in the Super Bowl, I texted [Eagles CB Darius] Slay and asked: 'How was Kelce doing this? Didn't you guys' gameplan for him?' It's kind of the same answer: 'We did, but he just creates. He just gets open somehow.' "
Perhaps the Jets will line up CB Sauce Gardner against the All-Pro tight end like they did in Week 1 last season against Ravens TE Mark Andrews. Gardner's 9 snaps in coverage against Andrews were the most among any defender.
"I know a lot of guys don't see it, but there are times where we do certain things to put [Gardner] in an advantageous situation," Saleh said. "We're not reluctant, but we pick and choose because we have all the faith in D.J. Reed, too.
"Usually you get long corners who are a little bit leggy and not very good in and out of transition, but he's not one of those guys. He's got great length and strain, getting in and out of his breaks."
Chiefs Defense
Kansas City's reputation is its high-powered offense, but its defense, led by All-Pro DT Chris Jones, has been one of the league's best through three weeks this season (No. 6 in the NFL).
"I think this is Year 5 for them now of being together under [DC Steve Spagnuolo]," Saleh said. "Spags is doing a great job with that group. They play fast, a lot of tight-window throws.
"Chris Jones is as good as anybody on the interior. He's up there with Quinnen [Williams] and Aaron Donald. Those three are the crème de la crème of the interior pass rush. [Nick] Bolton is a heck of a linebacker. It's a really good group. It's going to be another challenge for us."