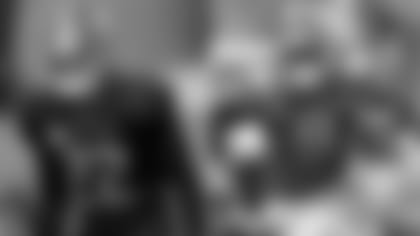 Running backs aren't what they used to be in the NFL. In the past 10 drafts, only 13 RBs have been selected in the first round. None were taken in 2013-14 combined, while only one made the Round 1 grade in '11, '16, '19 and last year. A month from now in the '21 draft in Cleveland, we could be in for another one-fer lower in the opening round, either Clemson's Travis Etienne or Alabama's Najee Harris, although both are in the running.
Yet teams still need backs, even perhaps the Jets despite their just signing Tevin Coleman to work with the three experienced hands on their roster in Ty Johnson, Josh Adams and La'Mical Perine. Who will be in the teams' sites at RB this year? Here are five names to consider:
Top of the Class
Travis Etienne (5-10, 210), Clemson
Etienne enjoyed one of the most prolific careers in Clemson, ACC and college football history. His scrimmage totals: 686 rushes for 4,952 yards (7.2 yards/carry) and 70 rush TDs, and 102 receptions for 1,155 yards (11.3 yards/catch) and 8 receiving TDs. He was part of an undefeated-at-home senior class that helped the Tigers to four ACC titles, four CFP berths, two championship appearances and one national title. He holds the NCAA's FBS record for most career games scoring a touchdown (46 of his 55 games).
Dane Brugler, NFL draft analyst for The Athletic, puts Etienne's half of this year's top RB battle in baseball terms. "If you're looking for more of that home run hitter who might strike out a little bit but he's got that home run power, that's Travis Etienne. He's going to give you those big plays."
Najee Harris (6-2, 230), Alabama
Harris got it done in his four 'Bama seasons, racking up 3,843 rush yards on 638 carries (6.0 yards/carry) and 46 touchdowns, along with 781 yards on 80 receptions (9.8 yards/catch) and 11 more TDs. His 57 scrimmage TDs and 46 rush TDs are both UA records. He helped the Tide to three national championship games and two national titles in his time there, and earned the Doak Walker Award winner, presented annually to the nation's top RB. However, he had only one scrimmage play longer than 42 yards, a 53-yard run in his next-to-last college game vs. Notre Dame on 1.01.21.
Brugler's baseball take on Harris: "If you're looking for more of the back with the on-base percentage who's going to have a lot of doubles and is going to get on base a lot, that's Najee Harris. He might not have that home run power, that big-play potential, but he's going to do a lot with what he has." Brugler states that Harris "is my top running back" in this draft, "and I never thought I would say that two or three years ago."
Best of the Rest
Javonte Williams (5-10, 220), North Carolina
We'll mention two Tar Heels backs here. Williams enjoyed his best UNC season as a true junior last season with 1,140 yards on 157 carries (7.3 yards/carry) and 19 TDs, and his receiving was also the best of his three college seasons with 25 catches for 305 yards (12.2 yards/catch) and 3 TDs. All this despite starting just one game while playing in 11. He was named All-American second team by Associated Press last year.
Michael Carter (5-9, 195), North Carolina
Carter was the starter for the Heels, plus a team captain, last year as a true senior. He had 1,000 rushing yards for the second straight season, finishing with 1,245 yards on 156 carries (8.0 yards/carry) and 9 touchdowns and added 267 yards and two more TDs on 25 catches (10.7 yards/catch). He averaged 113.2 scrimmage yards/game last year, compared to Williams' 103.6 yards/game. Carter had a great week at the Senior Bowl and may have put himself into Day 2 consideration.
North Carolina HC Mack Brown, serving as something of an nfl.com draft analyst at the Tar Heels' pro day, has compared Carter/Williams to Southern Cal's Reggie Bush/LenDale White of 2004-05 "because of their amount of yardage. I would say they've got to step it up to make sure they live up to that level of expectation. But both of them are great people, they stayed healthy, they didn't turn the ball over, they can block, they can catch, they're smart, they're really good in space but powerful enough to run inside. Javonte will run over you and Michael has that patience. They're both guaranteed NFL backs."
Day 3 Diamond
Rhamondre Stevenson (6-0, 236), Oklahoma
Stevenson was a late bloomer. A broken foot and low grades as a HS senior forced him to take a year off, then go the JuCo route. As a soph at Cerritos College, he erupted for 2,000 rush yards and 16 TDs on 222 carries. Then at OU, he packed 515 yards into 64 carries as a junior. He was suspended before that year's Peach Bowl, which carried over to the first five games last season. But in the last six he came on strong and finished with a flourish — a career-high 186 rush yards and a TD on 18 carries in the Sooners' Cotton Bowl Classic win over Florida.
He's not nifty (although scouts note a spin move he breaks out occasionally) but is powerful with speed and balance. He could surprise as part of a committee backfield for an NFL team that takes him early on day 3.