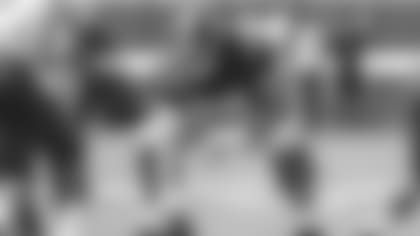 The center is the guy on the field who often directs blocking schemes and conveys the ball to the quarterback on nearly every play. But to channel the comedian Rodney Dangerfield, sometimes they "don't get no respect."
No (or little) respect indeed. For example, there is not a single center on the list of Top 50 draft-eligible players of Daniel Jeremiah of NFL Network. Most of the centers listed below are projected to be selected from Round 2 on.
The Jets have not drafted a center since taking Ohio State's Nick Mangold (a building block along with the team's top pick that year in D'Brickashaw Ferguson) in the first round in 2006. The incumbent Connor McGovern took the most snaps on offense, with 969 (98%), in the 2020 season and is entering the second year of his three-year contract.
Top of the Class
Landon Dickerson (6-6, 308), Alabama
Dickerson sustained a torn ACL in the SEC championship game and it was thought that the injury would cause his draft stock to decline. Not exactly.
"That is the best center in the draft in Landon Dickerson, who would go higher than this as a lock first-rounder if not for injuries, coming off of an ACL," Jeremiah said. "But when you're watching Pro Day coverage and you see him doing cartwheels behind the interviewee, I begin to think that maybe he's recovering a little bit ahead of schedule."
Dickerson played for Florida State for three seasons before transferring to Alabama, where he became a starter in 2019. As a redshirt senior he garnered first team All-America and All-SEC honors in 2020, and was also a semifinalist for the Outland Trophy, given to college football's top interior offensive lineman.
Creed Humphrey (6-5, 312), Oklahoma
After being redshirted his freshman year, Humphrey did not give up a single sack over three seasons (including postseason games). During that time, he never missed a game (39 overall), allowing 30 QB pressures in 1,359 pass plays.
The Big 12 Offensive Lineman of the Year comes from a wrestling family (his dad was a grappler at Central Oklahoma), the younger Humphrey was a wrestler in high school. That's not a bad thing for an offensive lineman to be.
"Dynamic zone-blocking center who started the three years he played at Oklahoma," wrote Tony Pauline of SI.com. "Fundamentally sound lineman, sets with a wide base, and bends his knees. Explosive at the point, fires into blocks and stays square. Keeps his feet moving, can slide in space and displays good blocking range. Possesses outstanding vision, keeps his head on a swivel, and displays a good feel for what's happening on the field. Terrific with the shotgun snap."
Best of the Rest
Josh Myers (6-2, 312) Ohio State
Myers allowed 6 sacks in 30 games and 755 pass plays, but more importantly he was an important cog in the Buckeyes' strong running game that featured J.K. Dobbins and QB Justin Fields. Recruited after having played guard in high school (both his dad and brother were offensive linemen in college at Kentucky), Myers was a redshirt freshman who slotted in at center in 2019 and played in all 14 games.
He has been described as a nimble center with quick feet, great movement skills and excellent lateral quickness on all kinds of blocks. He can explode off the line of scrimmage and has shown ability hunting for linebackers to clear out. Myers has an appealing blend of speed and power.
Trey Hill (6-4, 331), Georgia
Hill played a multitude of positions on the OL for the Bulldogs during his collegiate career. A four-star recruit who also excelled in the shot put, Hill drew interest from Florida State, Auburn and Michigan State before he opted to stay in his home state. He played in all 14 games as a freshman, playing four games at right guard before being pressed into service when the Bulldogs' starting center was injured against Kentucky. In the 2020 season, Hill earned second team All-SEC honors. He made 22 starts at center and his versatility and ability in the run game could make him a valuable jack-of-all-trades on a team's offensive line.
Jimmy Morrissey (6-3, 305), Pittsburgh
To say that Morrissey flew under the radar coming out of high school would be an understatement -- he received zero scholarship offers from FBS schools, but through work and determination was a four-year starter as a walk-on at Pitt (he later earned his scholarship). For all his efforts he won the Burlsworth Trophy, which goes to the best college football player who began his career as a walk-on. He started 47 games and was a three-time all-ACC selection; he managed to land a coveted spot in the Senior Bowl after another player dropped out with an injury.
"He possesses a thick, stout lower body, along with powerful legs and thighs. Morrissey does an excellent job keeping feet chopping upon and through contact," according to "The Official 2021 NFL Draft Bible."
Michal Menet (6-4, 302), Penn State
Menet was a three-year starter and two-time captain for the Nittany Lions. He was recruited by more than 30 schools, but decided to stay in his home state for his collegiate career.
According to Lance Zierlein of NFL.com "he lands with some pop, but lacks ideal length and athleticism to sustain blocks against active defenders. He has the potential to become an average starter within two years."
Menet participated in Penn State's Pro Day and turned in 26 reps in the bench press, but did not participate in any agility drills or the 40-yard dash. No explanation was offered.
Day 3 Diamond
Drake Jackson (6-2, 310), Kentucky
Jackson was the anchor of the Wildcats' offensive line for four seasons, making 44 consecutive starts (from 47 games overall). Over 1,364 pass plays he allowed only one sack. At the Senior Bowl, he played through a separated shoulder on the second snap of the game, but played on. Jackson was named second-team All-SEC by league coaches in 2020. Some consider him to be a bit undersized for a center, but his smarts, core strength and footwork are in his favor.