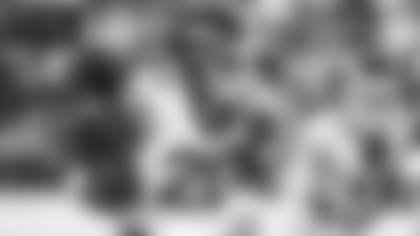 Cowboys Have Horses
Despite scoring 40 points against the Giants on "Sunday Night Football," the Cowboys only totaled 265 yards on offense, which is tied for 20th in the NFL after the Week 1. Dallas, however, has offensive firepower ,quarterbacked by Dak Prescott, who didn't have a good game last week. He threw for 143 yards, touchdowns and completed 54.2% of his passes.
Prescott has a strong supporting cast. The offensive line is led by two-time first-team All-Pro LT Tyron Smith and six-time first-team All-Pro RG Zack Martin. In the backfield, RB Tony Pollard ran for 70 yards and 2 touchdowns. He was the only running back last season to eclipse 1,000 yards on fewer than 200 carries (193).
At WR, the Cowboys have depth with CeeDee Lamb, Brandin Cooks (acquired this offseason via trade), and Michael Gallup. Lamb's 107 receptions last season tied for fifth in the NFL and his 1,359 receiving yards ranked No. 6.
"From a defensive standpoint, we just have to stay consistent," LB C.J. Mosley said. "They have a really good run game. Obviously with Dak Prescott being back there, they make big plays in the back-end. So for us, we have to make sure that we can decipher the run game from the pass game from their boots and play action. They like to get the ball going downhill from sideline to sideline going downhill. After that, throw big plays in the back end. I feel if our defensive line and linebackers do a great job in the run game, control the middle of the field and let our DBs do exactly what they did this past Monday, we'll be in the game."
Ground Game
The Jets rank No. 4 in the NFL in rushing yards after Week 1. The team totaled 172 yards behind Breece Hall's 10 carries for 127 yards. The Green & White pace the league with 6.1 yards per carry and 5.42 yards after contact per rush.
The tight ends helped spring the Jets running backs as second-year player Jeremy Ruckert led all TEs with an 89.5 run-block grade last week and Tyler Conklin ranked No. 5 with an 81.1 grade.
The Cowboys defense allowed 108 yards on the ground to the Giants last Sunday, but finished No. 22 last season in rush defense (129.3 yds/game).
"They're fast, they have a bunch of athletic guys in positions that can run around," said RB Dalvin Cook, who had 13 carries in his Jets debut Monday. "They like to rush to passer, they like to turn the ball over. Everything about that defense puts them in a top-10 category in the league. If you're in that position, you're a good defense. They have a good overall defense and we need to treat them like one."
Bookends
The Cowboys have one of the best bookend pass rushers in the NFL. Micah Parsons, the No. 12 overall pick in 2021, has been named a first-team All-Pro each of his first two seasons. The Penn State product had 13 sacks as a rookie and 13.5 last season. Opposite him is Demarcus Lawrence, who had 6 sacks in the 2022 season.
Dallas has talent across the defensive line and totaled 7 sacks in Week 1.
"Our defensive pass rush, as far as pass attempts, 75% of the attempts were under pressure," Cowboys HC Mike McCarthy said. "That's a huge win in that area. Obviously a big part of setting the tempo and you could see this building for the last three years."
Lawrence added: "I definitely feel like we put the league on notice. We're for real, we're coming."