In the NFL, fast often comes in small packages. Take it from Dri Archer.
"Speed is something you can't really coach," Archer, the 5'8", 173-pounder whose outstanding speed enabled him to light it up as a Kent State running back, said at the 2014 NFL Combine. "You can't just go out and buy speed anywhere. Guys like me, smaller guys, are going to cause a lot of problems in the league."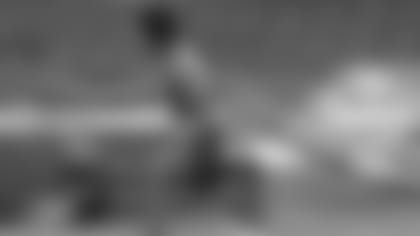 He gave some problems to 32 NFL draft teams who grappled with how to grade him after he turned in his 4.26-second 40-yard dash in Indianapolis two years ago. Since the league went to electronic timing in 1999, that was and still is the second-fastest Combine 40 time, behind only the legendary 4.24 of Chris Johnson at the 2008 workouts.
Pittsburgh was the team to catch up with Archer in the third round of the '14 draft, selecting him 97th overall. In his two Steelers seasons, Dri ran for exactly 40 yards and also had 23 receiving yards. He did his best work as a kickoff returner last year, averaging 25.3 yards on 14 returns in eight games before the Steelers waived him in November.
Now, a little over a year since Johnson departed after spending the '14 season with the Jets, Archer signed a reserve/future contract with the Green & White earlier this month. He's got excellent strength for his size (he had 20 reps in the 225-pound bench in the '14 Combine), great confidence and a winning attitude with which to speed into this latest challenge in his pro career.