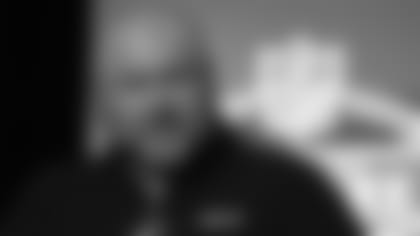 Jets GM Joe Douglas walked up to the microphone on Tuesday at the start of the NFL Combine in Indianapolis and showed that he was in a good and jovial mood.
"I'm sure you have a lot of questions about safeties!" Douglas said, with a laugh, to an assemblage of reporters and other media types who were champing at the bit to ask about quarterbacks ... of course.
This was the first media availability for Douglas since the end of the Jets 2022 season when he and HC Robert Saleh said that the organization would pursue a veteran quarterback, while keeping Zach Wilson in their long-term plans. Since that day in early January, not a day has passed without speculation about who that veteran might be.
First up was Derek Carr, who was released recently by Las Vegas. Carr is now a free agent and one of his early visits was to 1 Jets Drive a couple of weekends ago.
"I've seen the reports about us bringing in Derek Carr a week-and-a-half ago," Douglas said. "We had a fantastic visit. We enjoyed spending time with him and right now he's the only quarterback I can shed light on. He left a strong impression with everyone. We're going to be exploring the veteran quarterback market and we're going to make the best decision for the Jets."
Carr, who turns 32 in late March and has played 10 seasons in the NFL, could sign with any team after the Raiders released him on Feb. 14.
After the meetings with the Jets, Carr's brother, David, an NFL Network analyst said: "Derek had a great visit. ... We knew he would love Robert Saleh. I've known Robert for a while, he's fantastic, and they hit it off and they would love to work together."
Carr has played his entire NFL career with the Raiders since being drafted out of Fresno State in the second round in 2014. In 142 regular-season starts, he had 4,958 pass attempts and 3,201 completions (64.6% accuracy), for 35,222 yards, 217 touchdowns, 99 INTs, 28 fourth-quarter comebacks and 33 game-winning drives.
On Carr, Douglas added: "He is a high-level producer, phenomenal. After spending time with him, I found him to be very authentic, ultra-intelligent, just very comfortable in own skin. Highly competitive. On tape we see the talent, the release velocity, the way the ball gets out, decision-making, accuracy. A lot to like."
Douglas said that the Jets plan to meet with Carr later this week and though the GM declined to disclose if the Jets had tendered an offer to Carr and his people, Douglas did say that the Jets "will be ready to pull the trigger when we have to."
In addition to his obvious talent and ability to compete at a high level in the NFL, Carr offers the Jets (and other teams pursuing a QB) the opportunity to make an acquisition without the need to make a trade for a player, like Green Bay's Aaron Rodgers.
"We look through every scenario weighing things vs. acquiring a player with no compensation to trades and picks," Douglas said. "Looking at every option will play a part in the decision."
He added: "I don't want to speak for Derek, but this is the first time he's been a free agent in his pro career. Being around him and seeing how smart he is and will be throughout to make sure he and his family end up in the right destination. We will respect his process, and we're ready to make a decision when the time comes."