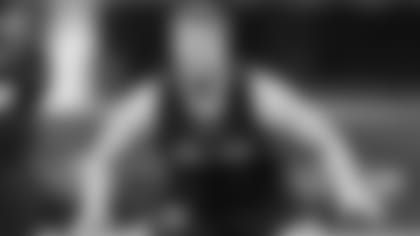 Almost all of the NFL mock drafts have the Jets selecting an offensive tackle with the No. 13 overall pick. Most project either Georgia's Broderick Jones or Ohio State's Paris Johnson, also Northwestern's Peter Skoronski.
GM Joe Douglas and HC Robert Saleh have discussed adding to the offensive line in the offseason even with three projected starters on the mend – T Duane Brown (shoulder), T Mekhi Becton (knee) and G Alijah Vera-Tucker (triceps).
Here's a look at the top OT prospects at the NFL Scouting Combine.
NFL Bloodlines
NFL Network's Daniel Jeremiah tweeted an interesting comparison for Skoronski's measurements at the Combine – Jets OL Alijah Vera-Tucker. Their numbers were similar in height, weight, arm length, 40-yard dash, 10-yard split, vertical and long jump as prospects.
Skoronski played three years at left tackle for the Wildcats, Vera-Tucker played one season protecting the blind side. NFL pundits believe Skoronski, who started 33 games at LT was and named an the Associated Press First-Team All-American in 2022, could be best suited at guard at the pro level, like Vera-Tucker.
"Teams have been pretty open about that," Skoronski said. "No one has really sat me down and said, 'No, you can't play tackle for us.' Teams have just kind of asked me where I see myself. I said that I'm a tackle, I play tackle, but am more than willing to play anywhere. Teams talk about versatility for sure, too. If they move me to guard, I'm happy to do that. No one has really said, 'You have to play guard. You can't play tackle.' No one has really boxed me in, which I'm pretty pleased about."
Skoronski has NFL bloodlines. His grandfather, Bob, won five titles and two Super Bowls with the Packers (1956, 1959-1968) and is in the team Hall of Fame.
"He's sort of been my football mentor ever since I was born," he said. "I just always have looked up to him and wanted to follow in his footsteps. This is a dream continuing in his legacy."
Versatile and Charitable
Johnson was a versatile player for the Buckeyes, starting 13 games at right guard in 2021 and 13 at left tackle this past season, earning second-team AP All-American honors. He told reporters he feels like he's a natural tackle, but wants to see the field as much as possible and would learn to play center if necessary. Johnson describes his game as athletic, violent and his "feet can cover anybody."
Off the field, Johnson established a foundation in his name during high school that's dedicated to helping disabled veterans. He's raised more than $10,000 to serve more than 100 veterans and 350 student-athletes.
"When I was a kid, it was almost important to get to the level in life where I can be able to say something and things will be able to happen and influenced, but for the right things," he said. "When I was a kid, I saw a lot of people that people looked up to that used their platform for things that were irrelevant and people flocked to that.
"My mom sacrificed for me. I can go down the list, but there are a lot of families, who can't afford to sacrifice anything. That's another level. The people who supported me, my mom and my sister to allow me to do what I do, the only thing I can do to pass the game on to the next generation is to pass on that same charity."
Practice Makes Perfect
Jones comes from a winning pedigree, and he started all 15 games for the Bulldogs this past season en route to their second championship in as many years. NFL.com's Lance Zierlein compared Jones to former Georgia prospect Andrew Thomas, the No. 4 overall pick in 2020 (Giants). When asked about his most-challenging matchups in college, Jones answered his teammates. The Bulldogs had three defensive linemen selected in the first round of the 2022 NFL Draft including the No. 1 overall pick, Travon Walker.
"We've always been known for our defense, going up against guys like Nolan [Smith], Travon, Azeez [Ojulari], Jermaine Johnson, it really ups your game," he said. "Practice was always harder than the games to me. I always took every practice like a game. Going in, trying to take the best possible reps every day. We practice physical, we practice hard. That's what Georgia is known for."
Jones' athleticism is his calling card, something he carried from his basketball background. He supposedly still has a decent, although rusty, shot, too.
"I think it helps me out a lot just being able to have these sweet feet," he said. "I think it helps me put my game on the next level, just being able to go along with all my other attributes."