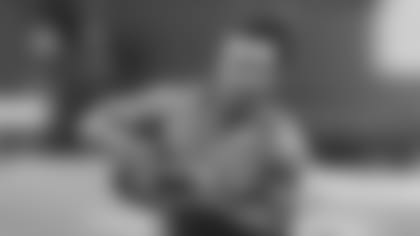 Early in March, in his first meeting with reporters since late January, Jets HC Robert Saleh expressed his hope that the team's defense could be kept intact in the face of a slew of players poised to become free agents.
"As far as defense, just making sure that we can run it back with the guys we have," Saleh said, with a hint of hope in his voice.
At linebacker, both Quincy Williams and Kwon Alexander could become unrestricted free agents. Lamarcus Joyner also could hit the market, but NFL Network's Ian Rapoport reported Thursday that the Jets had agreed to terms on a trade with Baltimore that will bring safety Chuck Clark north next week.
With work ahead in free agency, below are a couple of options among players leaving college.
Nick Herbig LB WisconsinWhat's better than one Herbig on your team? Another possible brother act, though OL Nate Herbig and Quincy Williams (half of the other duo with Quinnen) could become free agents. Nick Herbig may be undersized (6-2, 227), but this former Badger plays big.
Herbig, like his brother a native of Hawaii, was a three-year starter as a 3-4 outside linebacker in Madison. He compensated for a seeming lack of size with athletic play while showing a lot of potential. A ballhawk adept at getting into the opposition's backfield, 26 percent of Herbig's career tackles resulted in lost yardage.
"He can be a slippery rusher with subtle hands and a wicked inside move that leaves tackles in the mud," said Lance Zierlein of NFL Network. "He might have the instincts and athletic ability for consideration as an off-ball linebacker."
On the impact his brother has had and the possibility of playing with him in the NFL, Nick Herbig said: "I don't think I'd be here without my brother. He's my backbone, he got me here, he's shown the light for me, he laid the blueprint and I'm just trying to follow in his footsteps.
Asked to describe himself, Herbig said: "I'm dynamite in a small package."
Brian Branch S Alabama
Branch (6-0, 193) met with GM Joe Douglas and Jets officials at the Combine where he ran 4.58 in the 40, 1.56 in the 10-yard split, leaped 34.5 inches in the vertical jump and a 10-5 in the broad jump after showcasing his versatility in Nick Saban's defense at Alabama. He has played mostly at cornerback or nickel for the Crimson Tide but is versatile enough to fit it at any spot in the defensive backfield.
"With his ability to play any position in the secondary, Branch will be highly coveted by teams looking for defensive back versatility," said Dane Brugler of The Athletic. "With his instincts and toughness, Branch projects best as a nickel defender who is sticky in man coverage and reliable in run support.
"After ranking 26th overall in August and 19th in November, Branch [ranked 16th in Brugler's pre-Combine top 100] has continued to climb on my board."
Branch has kept tabs of the Jets defensive backfield, particularly Defensive Rookie of the Year Sauce Gardner.
"Sauce Gardner, I played against him my sophomore year when we played Cincinnati, and just seeing him transform into the player he is now, I feel like is crazy," Branch told reporters at the Combine. "He's really a lockdown corner, and it would be huge to play alongside him."
Sydney Brown S Illinois
Brown, a fifth-year senior, played in 12 games for Illinois this past season, logging 742 snaps, 56 tackles and 5 passes defensed. The stats that stood out were his 6 interceptions and a QB rating of 47.8 when targeted. He was named to the first team all-Big Ten this past season.
"When I look at Sydney, to me obviously the ball production is there at 5-10, 213; had 6 picks [tied for third in the FBS]," Daniel Jeremiah of NFL Network said in a recent conference call. "He has great range. You'll see him undercut routes. He is explosive. He is outstanding on special teams. He had a forced fumble on a punt in one of the games that I watched."
If he happens to land on the Jets, Brown would join his former college teammate Tony Adams, who signed as an undrafted free agent with the Jets and saw action at safety in five games last season.
Brown grew up in Canada and has a twin brother, Chase, who is a running back at Illinois. Their father, Darren Isaac, played three seasons in the CFL. Sydney Brown transferred to a high school in Florida and was a state track and field finalist in the 400m, 4x400m, and 4x100m during his senior year.