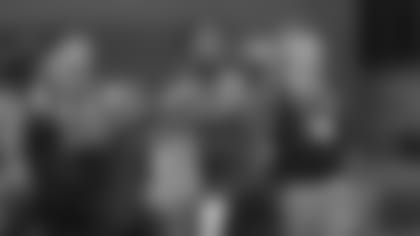 The times and distances recorded by the 319 invitees from more than 100 colleges at the just-concluded NFL Combine in Indianapolis are in. And while some NFL observers discount the value of the drills, others see correlation between pro success and how fast athletes run, how much they lift, and how high and far they jump. And every uber-football fan has Combine favorites this year, and/or lists of more Combine favorites from their favorite football platforms.
We just like the competitive and athletic aspects of the numbers, which helped us identify eight athletes who were among the very best performers at the Combine:
QB Anthony Richardson, Florida
The 6-4, 244-pound Richardson was the star of the signal-callers in the Combine drills with first places among QBs in the 40 (4.43 seconds, third-best among QBs since 2006), vertical jump (40.5 inches, best among QBs since '06) and broad jump (10-9, best among QBs since former Jet Brad Smith's 10-8 in 2006).
"I've watched different films, of Joe Burrow, Justin Herbert, Josh Allen. I feel like I'm able to do the same things those guys are able to do," Richardson said last week. "They're great on their teams. I'm ready to get on my team, in my system, and become great like those guys."
CB DJ Turner, Michigan
Turner was the 40 champ in Indy with his 4.26-second time. It was the best of 2023 and fourth-best of the electronic-timing era that began in 1999 — a mere whisper off of the 4.22 by Washington WR John Ross in 2017, 4.23 of Baylor CB Kalon Barnes last year, and 4.24 by East Carolina RB Chris Johnson in 2008.
TE Zack Kuntz, Old Dominion
The tight end class is loaded this year and Penn State transfer Kuntz is one of the kings of that mountain. Kuntz placed first among TEs in the vertical (40-0), broad jump (10-8) and 3-cone (6.87 seconds), tied for the top with 23 reps in the bench, and placed second in the 40 (4.55) and 20 shuttle (4.12). His shuttle was fourth-fastest and his 3-cone tied for sixth among all participants this year, and his broad jump tied for eighth among TEs since 2006.
CB Deonte Banks, Maryland
With Illinois' Devin Witherspoon not working out due to a hamstring issue, Banks stepped up. He skyed to 42-0 in the vertical jump, the best among corners and third among all athletes at this year's Combine. His 11-4 broad jump was second at his position and for the Combine. And he wasn't too far behind Turner's blistering time as the Terp turned in a 4.35-second 40, tied for third among CBs.
LB Jack Campbell, Iowa
Campbell's 4.65-second 40 was well off the LB lead of 4.39 set by Auburn's Owen Pappoe, but Campbell excelled in four other events. His best: the 3-cone drill, where he clocked in at 6.74 seconds, not only first among LBs but third for the Combine, behind only WR Jaxon Smith-Njigba and CB Julius Brents. He was also first among 'backers with a 4.24 shuttle, second with a 10-8 broad jump and tied for second with a 37.5-inch vertical.
WR Jaxon Smith-Njigba, Ohio State
Shades of Garrett Wilson. JSN cemented his position as perhaps the top WR heading into Round 1 late next month. His workout was outstanding, and although he didn't run the 40, he showed a strong combination of speed and agility with a 3.93-second short shuttle and a 6.57 in the 3-cone, both easily the fastest times not only among wideouts but for the entire Combine.
Edge Nolan Smith, Georgia
We'd list Smith higher if he didn't measure in at 6-2 and 238 pounds. But he could be a great fit for some teams' schemes based on his drills. He ran the 40 in a receiver-like 4.39 seconds — the second-fastest Combine time by a DE since 2006. And his 41-5 vertical leap was in fact the best by any DE since '06
G Jon Gaines, UCLA
Gaines was a speed merchant among guards. His 4.45 seconds in the shuttle and 7.31 in the 3-cone were best among all offensive linemen last week, while his 9-6 broad jump and 32.5-inch vertical were both tied for third on the O-line. His 5.01 in the 40 was just a shade off the fastest linemen, led by Georgia T Broderick Jones (4.97).
T Andrew Vorhees, Southern Cal
Almost overlooked this big guy's gutsy effort. Vorhees tore his ACL during his Sunday workout in Lucas Oil Stadium. After getting the knee treated, he opted to do the benchpress later that day — and hoisted the 225-pound weight 38 times, the most by anyone at this year's event and tied for 17th-most by any Combine athlete since 2006. The team that drafts him will have to wait for him to suit up, but they'll be getting someone who loves football.