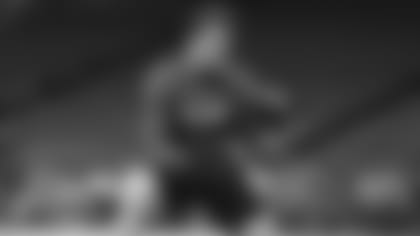 At this time last year, the Jets were poised to revamp the tight end position -- in free agency and in the draft -- while later also using one of their three first-round draft picks on WR Garrett Wilson, who turned into the NFL's Offensive Rookie of the Year.
Facing the ever-present salary cap conundrum, could the Jets decide to pluck another tight end in a group of potential "difference makers," in the words of Daniel Jeremiah, an analyst and writer for NFL.com and NFL Network.
"When you play against the Jets, they don't have someone in the position that you circle and say, 'we have to stop this guy,' " Jeremiah said. "They don't have a big-time difference maker. The most favorable matchup for an offense is to get a good tight end safeties can't match up with and that linebackers can't move around with.
"The best matchup on the field is to find a difference maker. I wouldn't be shocked if they [the Jets] go back into that well. If you're trying to take off to another level, that's a piece they don't have. They do not have a blue-chip player [at the position]. So, maybe it's something you do in the third, fourth round.
"I think the tight end group is the best I've seen in the last 10 years. It's outstanding."
Here are a couple of tight ends who might appeal to the Jets and be available in later rounds, and a wide receiver who could still be on the board in the second or third rounds.
Sam LaPorta, Iowa TE
The Green & White has two veterans signed in free agency last season and expect to integrate last year's Day 2 draft pick Jeremy Ruckert into the offense more this coming season. HC Robert Saleh witnessed firsthand the impact TE George Kittle had when Saleh was with the 49ers, and Sam LaPorta has often been compared to Kittle (who also played for the Hawkeyes). With a knee injury behind him, LaPorta turned in a strong performance at the Combine after being named the Big Ten's top tight end last season.
At Iowa, which has been dubbed "Tight End U," LaPorta ranks first in receptions (153) and second in receiving yards (1,786). At the Combine, according to Next Gen Stats, he was the No. 3 tight end in Athletic Score (86) and fifth in Total Score (82). He ran a 4.59 in the 40, third best among TEs, was second in the 3-Cone and third in the 20-yard shuttle.
In comparison to Kittle (6-4, 250), who he resembles in size (6-3, 245), LaPorta will need to improve his blocking, but had a pair of 50-catch seasons compared to Kittle, who had fewer than 50 receptions in his Iowa career.
"LaPorta likely could have been a late Day 2 pick in the 2022 NFL draft if he declared after a big junior campaign with 53 receptions for 670 yards," said SI.com. "He returned to up his stock even more, as the athletic 6-foot-4, 249-pounder has an all-around projectable NFL game."
Darnell Washington, Georgia TE
Playing in the shadow of sophomore Brock Bowers, the national champion's No. 1 tight end, Darnell Washington, a junior, cast his own imposing shadow with his 6-7, 269 frame.
"He is like playing as a sixth offensive lineman in the run game, and he is still developing and learning in the pass game," Jeremiah said. "I think there's more there. Obviously, they had the best tight end in the country there with Bowers, who is just an absolute freak show. So he [Washington] doesn't get as many balls as he would on other offenses, but he is really intriguing."
In his three seasons with the Bulldogs, Washington had 45 receptions (28 last season) for 774 yards (454 in 2022-23) and a modest 3 TD catches. What stands out is his 17.2 yards per catch over those three seasons. According to PFF, his 81.4 run-blocking grade ranked fifth among FBS tight ends this past season.
"I feel like I'm only scratching the surface, I feel I'm a good blocker and I feel like I could turn into a great blocker," Washington said during the recently completed NFL Combine in Indianapolis. "I feel that I'm the most unique tight end in the draft. I wouldn't say the best. I'm very humble. You see the size. I'm bigger and heavier than most of these tight ends."
Quentin Johnston, Texas Christian WR
At 6-2, 208, Johnston (21) was a three-year starter for the Horned Frogs before declaring for the NFL Draft and forgoing his senior season. His stats improved each season, going from 22 receptions, 487 yards and 2 TDs as a freshman to 60 catches for 1,069 yards and 6 TD catches (with a long of 76 yards).
At present, the position may not be a priority for the Green & White, but that could change quickly if GM Joe Douglas needs to clear cap space. Johnston would potentially provide a deep threat on the outside to whomever the Jets start at quarterback.
At the Combine, Johnston turned in a 40.5-inch vertical and 134-inch broad jump.
"Height-weight-speed prospect with the physical traits and upside that might have teams willing to overlook some of his inconsistencies on tape," wrote analyst Lance Zierlein on NFL.com. "Johnston is a long-striding vertical threat who can open up and separate when allowed to keep his feet moving in space. His elevation and catch radius create an expansive target area down the field, but his overall success rate on contested catches is way lower than it should be for a receiver of his size. Johnston needs a specific route tree but will improve in that area at the next level. He will benefit from a more accurate deep-ball quarterback, but still feels more like a good WR2 than a high-volume WR1."