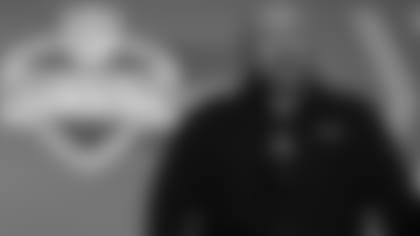 Joe Douglas didn't say much about any veteran quarterbacks other than Derek Carr when he spoke with the media to kick off the NFL Combine today. That's because Carr is the only vet among the list of QBs the Jets could pursue who is a free agent right now.
But the Jets general manager did offer some general comments, such as how long it will take for the timeline leading to that acquisition to unfold.
"I think everybody would like it done sooner rather than later," Douglas said. "But everyone has their own process. I feel like we have our process in exploring the market, exploring options, and each player has their own process in terms of what they have going on. So I can't give you a specific timetable, but when the decision has to be made, I feel very strongly that we're going to make the right decision for the Jets."
One part of the equation is getting down to brass tacks when talking to another team about a trade.
"We've looked at every scenario and at the things we're weighing in terms of a trade, versus acquiring a player with no compensation. We're looking at every option that will play a part in the decision," he said. "We try to live by the mantra 'right player, right price,' and the compensation plays a huge part in that price. When we're looking to make a decision like this for the Jets, we're going to try to do something that helps us both short-term and long-term."
Another part will possibly be waiting for the NFL's new league year to begin. March 13 begins the two-day negotiating period between NFL teams and player agents, with the beginning the league's unrestricted free agency signing period starting March 15.
Douglas assured he's doing his due diligence at all positions, saying: "This is a season where we've talked to a lot of GMs, we've talked about a lot of different scenarios, a lot of different trades and not just quarterbacks. So, I've had a lot of productive discussions with multiple GMs around the league."
Meanwhile, one young veteran will be back for his third year in green and white, and that's Zach Wilson. Douglas said that head coach Robert Saleh, new offensive coordinator Nathaniel Hackett and new passing game coordinator Todd Downing have already started forging a relationship with Wilson.
"I know in talking with Nathaniel and Todd and our staff, they're so excited to get with Zach and start working. I know they've had some positive discussions," Douglas said.
"Our stance on Zach hasn't changed. We feel he has a very high ceiling. The first two years haven't played out the way anybody's hoped, but we still feel like there's a very high ceiling with Zach. In my time in the league, I've found that when players love this game and work their tails off, they usually hit their ceiling. We feel Zach definitely has those traits, so we still feel strongly that he's going to be able to hit his soon."
So unless Joe D and the Jets strike a deal soon with Carr to begin his 10th pro season as a member of the Green & White, there will still be a lot of unknowns for a while about who will pilot the Jets offense in 2023 and how the quarterback depth chart will look.
But Douglas remains steadfast in one observation about this year's vet QB project.
"We feel like when it's time to make the right decision," he said once more, "we're going to make the best decision for the Jets."