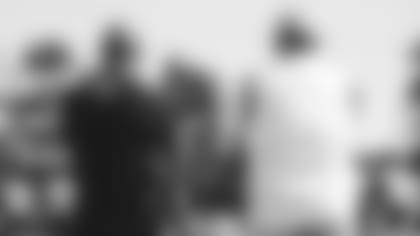 The NFL Combine will begin Monday in Indianapolis exactly two months before the league's 88th Draft commences in Kansas City. As the Jets continue to prepare for those proceedings, the start of the NFL's League Year — March 15 — is much closer on the horizon and hundreds of players throughout the league with expiring contracts are about to find new homes. Here are five things to watch as the Jets head to America's Heartland.
Quarterback Search
After Robert Saleh tabbed Nathaniel Hackett as his new offensive coordinator, he told the media that the team was "committed to finding a veteran" but added they didn't get into names during the interview process. The landscape has changed for the Jets since then. The Raiders former QB Derek Carr was released on Feb. 14 and the veteran signal-caller visited the Green & White last weekend. 
"Derek had a great trip," Carr's older brother David said on NFL Network. "He went there to get a feel for how they work from the top down."
Jets brass will be asked about Carr's visit while speculation swirls around what happens elsewhere with many other signal callers. San Francisco 49ers head coach Kyle Shanahan has already said that he doesn't see Jimmy Garoppolo returning, so Jimmy G. is destined for free agency. Aaron Rodgers has left his "darkness retreat" as league insiders continue to debate about the light ahead for the four-time NFL MVP and the Packers. 
Ravens QB Lamar Jackson, another former NFL MVP, has an expiring contract and it's possible the Ravens could elect to tag him and field offers. NFL.com's Cynthia Frelund wrote this week that the Titans could release Ryan Tannehill and save $17.8 million but that won't be an easy decision considering he posted a 30-13 mark as a starter in 2019-21.
With both free agency and the draft, it's the quarterbacks who typically start the dominoes in motion. How much more will we know about QB movement by the end of the week?
No. 13
The Jets needed a home run with their 2022 draft class and GM Joe Douglas delivered. NFL.com recently ranked the potentially historic Jets' Class No. 1 as CB Sauce Gardner, the No. 4 overall pick out of Cincinnati, and WR Garret Wilson, selected six picks behind Gardner, led the way and captured Defensive Rookie of the Year and Offensive Rookie of the Year hardware, at NFL honors. Electrifying RB Breece Hall, acquired in the second round after Douglas moved up a couple of the slots in a trade with the cross-town Giants, might have been the OROY had he not succumbed to a knee injury in Week 7 at Denver. While the Jets ended up with four of the top 36 picks last April, they're scheduled to open this year's proceedings with the No. 13 pick and then follow it up with their second-round selection.
Several Jets offensive linemen having expiring contracts and many pundits have the Jets swinging for a tackle at No. 13 overall with Broderick Jones (Georgia), Paris Johnson (Ohio State) and Pete Skornski (Northwestern) among the names floated. The offensive linemen are scheduled to speak to the media on Saturday, get measurements and have on-field workouts on Sunday and then bench on Monday.
Jets Free Agents
With the league year approaching, the Jets have 19 unrestricted free agents, four restricted free agents and 1 one exclusive right free agent. LB Kwon Alexander (69 tackles, 12 starts), T George Fant (36 starts in 2020-22), G Nate Herbig (11 starts), S Lamarcus Joyner, (4 takeaways), DT Sheldon Rankins (43 tackles, 3 sacks), LB Quincy Williams (106 tackles, 12 TFL), K Greg Zeurlein (30 of 37 on FG) and QBs Mike White (7 starts, 8 TDs in 2021-22) and Joe Flacco (5 starts and 5 TDs in 2021-22) are all scheduled to be UFAs.
The Jets have critical decisions to make along the offensive line but it will also be interesting to see the approach the Jets take at linebacker this offseason.
Saucy Combine
On Friday, Jets CB Sauce Gardner will provide on-field analysis for NFL Network as this year's defensive backs crop will participate in drills. Gardner, who appeared in a Super Bowl teaser commercial with fellow Pro Bowler Jalen Ramsey, posted a 4.41 time in the 40-yard dash in Indy — the same time Ramsey turned in at the 2016 Combine.
The 2022 Combine was the fastest ever as 31 players ran a sub-4.4 40-yard dash and participants had an average 4.71 40-yard dash time.
School Breakdown
There are 319 players that have been invited to the 2023 Scouting Combine as 308 players will arrive from FBS schools (96.6%), 8 prospects from FCS schools (2.5%) and 3 standouts from Division II schools (0.9%). Alabama leads the way with 13 invites while the national champion Georgia Bulldogs have 12. More than a ¼ of the invites (26%) went to SEC players as the nation's dominant conference will have 82 participants.