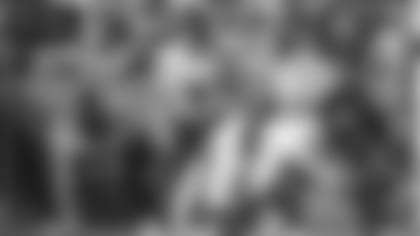 Big Storyline
A lot to chew over surrounding Sunday's matchup, most notably involving Broncos head coach Sean Payton and Jets OC Nathaniel Hackett, who coached the Broncos for part of last season.
Over the summer, Payton publicly criticized the way Hackett coached his former team, which resulted in heated responses from a number of players, including QB Aaron Rodgers. Hackett will return to the Mile High city on Sunday for the first time since he was let go last December.
"In football life, that was like 20 years ago, so that is a non-topic," HC Robert Saleh said. "But for Hackett, obviously it is going to be a personal feel to go back, but I think he understands just living as a coach's kid, understanding the process, he will know how to handle himself. He'll know exactly how to keep his emotions in check and make sure we do what is best for this organization and this team as it stands now. I fully expect him to be perfectly fine and levelheaded."
Rollercoaster Week 4 Game for Denver
The Broncos are coming off one of the biggest comeback wins early in the 2023 season. Their win probability, according to Next Gen Stats, was as low as 3.5% late in the third quarter down by 28-7 in Chicago. They scored 24 unanswered points to win, 31-28, their first of the season.
"[Russell Wilson] is actually playing really well," Saleh said. "He's moving around in the pocket a lot better, he's working off-schedule a lot better. He's kind of looking like the Russell of old in that regard. They're putting up points, they're putting up yards. It just hasn't been clicking. They had a big lead against Washington [21-3 in Week 2]. Obviously, they had the big comeback against Chicago. Against the Raiders they were in a really tight ballgame [17-16]. So, in my opinion, they're that close to being 3-1.
"Underrated football team and definitely going to be a big challenge."
Snapshot of Last Year's Game
This will be the fourth consecutive season the Jets will play the Broncos and each of their last two matchups have been at Denver. The Green & White lost in 2021 in the Mountain West and won, 16-9, last year despite losing two of the team's best offensive players for the season in Breece Hall (ACL) and Alijah Vera-Tucker (triceps).
Hall took 12 snaps before he sustained the injury and rushed for 72 yards on 4 carries including a 62-yard touchdown dash, where Vera-Tucker led the charge down the sideline. Through four games this season, the Broncos rank last in rushing defense. Last week, Bears RB Khalil Herbert, who had not run for more than 35 yards in a game this season, had 103 yards on 18 carries. Hall's 6.01 yards per rush average through 11 games is the fifth-highest in NFL history.
Sunday will be the first time the Jets defense will play against Wilson since Saleh took over as head coach. Wilson, whose 9 passing TDs are the second most in the NFL, is the only quarterback this season with at least 9 passing touchdowns and 2 or fewer interceptions. His 106.7 passer rating is No. 3 in the NFL.
Wilson's favorite target is WR Courtland Sutton, who leads the Broncos with 20 receptions and has 3 scores. Sutton was held to 23 yards on 3 receptions against the Jets last year while Jerry Jeudy led the team with 96 yards on 7 catches.