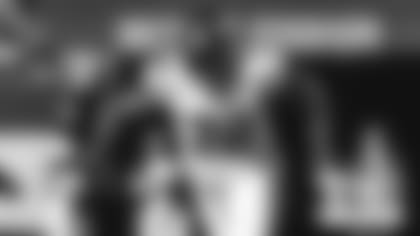 Von Miller Leads NFL in TFLs
The Jets didn't see OLB Von Miller when they played the Broncos in Week 4 at MetLife Stadium last season because Miller was dealing with a foot-tendon injury that kept him out for the season. Now healthy, Miller has 3 sacks in two games and leads the NFL with 5 tackles for loss.
"The biggest thing is detailing them up," RT Morgan Moses said on "The Official Jets Podcast." "You know they have a great defense, but they can be exposed at times as well. Von Miller is coming off incredible years. I've trained with him as well, he's a phenomenal football player and so is Bradley Chubb. … The thing is we have to come out there prepared, we have to run the ball, but we're on the road, so it's vital for us to get a road win."
Miller, the No. 2 overall pick in 2011, has 109 sacks in 137 games. One way to limit Miller's prowess rushing the quarterback is to establish the run, which the Jets did well last Sunday against the Patriots. They had 152 rushing yards on 31 attempts (4.9 avg) and the RBs -- Ty Johnson, Michael Carter and Tevin Coleman -- combined for 133 yards on 29 carries (4.6 avg).
"When you look at the film, you say we left some yards out there," Moses said. "Going into Week 3, we have a chance to perfect our offensive schemes and whatever Coach has for us to detail. The faster we run this offense, the better it is and we have a lot of playmakers. We have to get the ball into their hands and let this thing drive."
Broncos Dealing with Injuries
The Broncos (2-0) are coming off back-to-back road wins and player their home opener atMile High Stadium this Sunday when the Green & White play Denver. The Broncos, however, could be without five starters including WR Jerry Jeudy and CB Ronald Darby. They were placed on injured reserve last week. OLB Bradley Chubb (ankle) and LB Josey Jewell (pectoral) exited the game in Week 2 with injuries and could miss Sunday's game.
"We struggled a lot with injuries last season to players on the team," Broncos team reporter Sydney Jones said. "Head coach Vic Fangio said on Monday that the depth is much improved than it has been over the past couple years. "We definitely saw that on Sunday with guys who stepped up in place of Bradley and Josey. We saw Malik Reed step in for Bradley and second-year inside linebacker Justin Strnad came in for Josey. Overall, I think the ability to still win on the road with key players going out says a lot about this team."
Fangio, who has a 14-20 regular-season record, told reporters that WR Tim Patrick's hip injury isn't "anything too bad" and WR Courtland Sutton, who had 9 catches for 114 yards in Week 2, is fine after sustaining a bruise against the Jaguars.
For the Jets, HC Robert Saleh said they came out of Sunday's game "clean" against the Patriots. DL John Franklin-Myers (calf), who has 2 sacks in as many games, did not practice Wednesday, but Saleh is not concerned about his availability Sunday. Saleh is hoping rookie LB Jamien Sherwood (foot) will return to the lineup after missing Week 2.
Pro Tar Heels
Sunday's game features a pair of rookie running backs and good friends in Jets RB Michael Carter and Broncos RB Javonte Williams. Carter and Williams overlapped at the University of North Carolina from 2018-20. One of the most productive backfield duos in 2020, they combined for 313 carries, 2,385 yards (7.6 avg) and 28 touchdowns.
"That's my dog," Carter said. "I called him last night. I talk to him every day, probably every two days just to check in on him. He checks in on me, we just talk and laugh. It's a weird experience because I've always been on his team and I know what kind of player he is. That's my dog, but I know that this week he's my opponent. I don't play defense, so we're just going to try to get the win. The defense knows what they have to do. They don't have to do too much different, just play how they've been playing. As good as 'Vonte is, it does take 11. I'm excited to see him play this weekend, I'm excited to go out to Denver. Just see if we can grab a win."