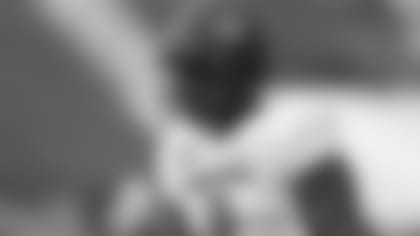 The Jets don't figure to be in the high-end interior defensive line market, considering that, four years after selecting Leonard Williams, they plucked Quinnen Williams from Alabama just about one year ago.
Besides "Q," the D-line appears to be well-stocked for the Green & White, but that doesn't mean they won't be window-shopping, or that other teams in search of a big man for their defensive trenches won't find someone to fall in love with later this month. Two players jump out in the first half of Round 1.
Auburn's Derrick Brown has been building toward his pro career from his award-studded days as a Georgia high schooler. He became a Tigers starter as a sophomore in '17 and has improved his productivity each year, culminating with 4.0 sacks, 11.5 tackles for loss, 4 pass defenses, 2 forced fumbles and 2 recoveries as a senior and in All-AP and All-SEC first-team honors. He has the rare size (6'5", 326) and skill combination to play in all fronts and be a productive starter and potential All-Pro at the next level.
Javon Kinlaw of South Carolina (6'5", 324) is listed very close to Brown high in many mocks these days — Charley Casserly at NFL.com in fact has Brown going No. 7 to Carolina and Kinlaw No. 8 to Arizona. Kinlaw's built himself into a formidable pro prospect the last two years. In '18 he was the Gamecocks' co-Defensive MVP with 9.0 TFLs, 5 PDs and 2 FFs, then last season he grabbed All-AP and All-SEC first-team honors with a career-high 6.0 sacks. He's been explosive but inconsistent so far.
One other player is seen by many draft analysts as a prospective candidate for the second half of the first round is Ross Blacklock of TCU. He's not a large man (6'3", 290) but does have elite "basketball" quickness, not surprising since his dad, Jimmy, is in the University of Texas HOF for his hoops career and did some touring and coaching with the Harlem Globetrotters. Ross also showed his focus by rehabbing from an Achilles' injury that cost him 2018 with a '19 campaign in which he registered 3.5 sacks and 9.0 tackles for loss.
Here are six more prospects who should hear their names called during the first two days of the draft:
Justin Madubuike, Texas A&M (6'3", 293) — Not huge or fast off the ball but played with leverage and power to put up big numbers the past two seasons — 11.0 sacks, 24.5 tackles for loss, 4 PDs (with an interception last year) and 4 forced fumbles.
Neville Gallimore, Oklahoma (6'2", 304) — This Canadian made an impact on the Sooners' front with 7.0 sacks, 11.5 TFLs and 4 forced fumbles the past two seasons combined. As a senior he earned All-Big 12 second-team and All-AP third-team honors. Fast (4.79 in his Combine 40) and has a motor but plays high and off-balance.
Raekwon Davis, Alabama (6'6", 311) — Has elite size and can impose his will on opponents. However, after earning All-SEC first-team status with 8.5 sacks in 2017, his production dipped in his last two seasons with the Tide (2.0 sacks combined) despite playing in twice as many games as in '17.
Marlon Davidson, Auburn (6'3", 303) — Consistent and durable for four seasons with Tigers and had his most production last year as an All-SEC first-team DE with 6.5 sacks, 11.5 TFLs and 48 tackles, with the numbers comparable to heralded Auburn linemate Derrick Brown. Davidson also blocked three kicks last year.
DaVon Hamilton, Ohio State (6'4", 320) — Athletic, quick and strong — his 33 bench reps at the Combine was No. 1 among all defensive players). Wasn't a regular Buckeyes starter until his redshirt senior season, when he racked up 6.0 sacks and 9.5 TFLs.
James Lynch, Baylor (6'4", 289) — Growth has been exponential so far. In his third year with the Bears last year, he was named All-AP first-team and Big 12 Defensive Player of the Year with strong numbers — 13.5 sacks (tied for 5th nationally), 19.5 TFLs (tied for 7th), 5 PDs, 3 FFs and 2 recoveries. His best play could be ahead.