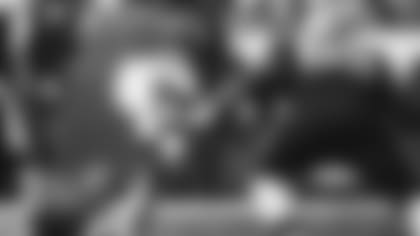 The Streak
The Jets enter Sunday's matchup with 12 straight losses to the Patriots. The Green & White's last win over New England was in Week 16 in 2015. The Pats are 9-3 at MetLife Stadium, but the two teams are in new territory.
The Jets (5-2) are off to their best start since 2015 and the Patriots (3-4) are in last place in the AFC East. It's the first time since 2000 that New England is entering Week 8 last in the division. It's the second time Bill Belichick's era as HC of the Patriots that he will face the Jets in Week 8 or later with a worse record than the Green & White (2001).
"It's a division rival," HC Robert Saleh said. "They know the history, they know how long it's been. At the same time, a lot of them weren't here for that. I wasn't here for all of it. I was here for two of them, but our job is to focus on this moment, focus on finding ways to do our absolute best. Whatever that result is, I think we'll like it."
Preparing for Two Signal-Callers
Since Week 4 at Pittsburgh, the Jets have played against or prepared for two quarterbacks each week. Against the Steelers, it was Mitch Trubisky and Kenny Pickett. Week 5 against the Dolphins, Teddy Bridgewater started the game for the injured Tua Tagovailoa, but Bridgewater was knocked out after the Dolphins' first play from scrimmage and third-string QB Skylar Thompson took over. Last week at Denver, the Jets were expecting to play against Russell Wilson, but Brett Rypien started.
This week, Patriots two QBs Mac Jones and Bailey Zappe played on Monday Night Football. Jones started and Zappe came in for the second quarter. Zappe, who started two games when Jones was dealing with an ankle injury, won them games with a point differential of plus-52 and averaged 33.5 points per game. He's thrown for 781 yards, 5 TDs and 3 INT while completing 70.7% of his passes. Jones has a 1-3 record in the 2022 season, throwing for 799 yards, 2 TDs and 6 INT while completing 65% of his passes. It was reported that Jones will start Sunday against the Jets.
"We'll be prepared for both," Saleh said. "I think a lot of people question whether or not [Matt] Patricia and Joe [Judge] can do what they're doing and they're doing a really good job. They're moving the ball, they're doing a good job handling the different things with the quarterback. I know Mac isn't fully healthy. Bailey has come in and do a really nice job.
"They've come close to knocking off some really good football teams. They've strung together a couple of games where they've played dominant football. They're doing a great job. Their schemes are sound, their players are playing with great techniques, so hats off to them."
Turnovers and Takeaways
The Patriots turnovers and takeaways numbers are at opposite ends of the scale. They rank No. 31 in the NFL with 15 giveaways, including 3 in Week 7, and are tied for third with 13 takeaways. Last season, the Jets turned over the ball 7 times against the Patriots. Second-year QB Zach Wilson, who threw 11 interceptions in 13 games as a rookie, hasn't turned over the since his season debut in Week 4 at Pittsburgh.
"New England has forever been a team that just feasts on your mistakes," Saleh said. "The reason why they're such a good ball-hawking defense is they've been coaching that system for what seems like 100 years. They know every single detail and the players are so well coached because of all the detail that goes into what they coach. They can anticipate and they know how teams are going to attack them. They can just be opportunistic. You have to be very ball conscious as an offense to make sure that you're not giving them freebies. That's always going to the challenge when you play New England."