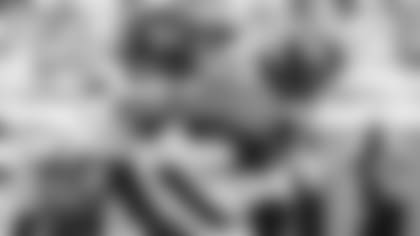 Road Warriors
Three of the Jets' four wins this season have come on the road. They've averaged 27.3 points per game on the road compared to 20.3 points at MetLife Stadium. The Green & White's offense has similar yardage totals – 1,028 on the road, 1,030 at home. Defensively, they've allowed 326.6 yards per game away from MetLife Stadium. After allowing 405 yards in their first road game at Cleveland, the defense held Pittsburgh and Green Bay to under 300 yards averaging 15 points allowed. 
Last season, the Jets went 1-6 on the road, including a 26-0 loss at Denver in Week 3. On Sunday, the Green & White have a chance to match their highest road-win total since 2010.
"Youth doesn't know any better," Saleh said. "Our guys get up, they play, they don't care about the venue. They just show up and they're having a good time. As I said, our guys don't flinch and there's no point in the game where they feel like the game is over. They keep fighting, give another team 60 minutes and see what happens."
Denver's 'Legit' Defense
While the Broncos rank 31st in scoring offense with an average of 14.8 points per game, they rank No. 4 in scoring defense, allowing an average of 16.5 points per game. The defense ranks top-10 in total yards (No. 3), passing (No. 5), sacks (T-4) and red zone (No. 1).
Denver has a talented defense headlined by OLB Bradley Chubb (5.5 sacks) and CB Patrick Surtain II. According to Next Gen Stats, Surtain II has allowed 142 yards on 35 targets this season, the second-fewest yards allowed in the NFL (min. 30 targets). The No. 9 pick in 2021 has 5 PDs and 1 forced fumble.
"Their defense is legit," HC Robert Saleh said. "They have a big-time defense. … It is arguably one of the top-three units in ball and they are relentless, so it's going to be a great challenge."
He added: "It's the same defense that we saw last year that put a whooping on us. They are playing at a very high level. They're operating at a very high level because it's Year 4 for them now. They're hitting on all cylinders. While their front doesn't have any big names, they get after it. Then their back end is as good as anyone as anyone in football."
Banged Up Broncos
Denver has some banged up horses. The Broncos have eight players on injured reserve and soon to be nine (a league high) after OLB Aaron Patrick tore his ACL in Week 6. He is the fifth player on the roster to tear an ACL. Other Broncos starters on IR include LT Garrett Bolles, RB Javonte Williams, OLB Randy Gregory, WR Tim Patrick and CB Ronald Darby.
Additionally, QB Russell Wilson is dealing with shoulder and hamstring injuries. Wilson underwent a procedure on his right shoulder after playing on "Thursday Night Football" in Week 5 to try and alleviate some discomfort. He then hurt his hamstring in Week 6 on "Monday Night Football" and received an MRI. Broncos HC Nathaniel Hackett said Wilson is day to day.
"With Russell, he's the ultimate competitor," Hackett said. "He's going to do everything in his power to get out on that field. We have to make sure that he's healthy enough to be able to go out and play at a high level. Whoever has to go in, whether it's Ryp [QB Brett Rypien], [QB] Josh [Johnson], or anybody, I feel confident that we will try to build a plan for them that makes them successful."