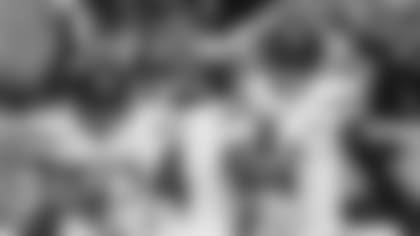 Hill and Waddle, Part II
Sunday's game features, debatably, the top two rookie classes in the NFL.
The Jets' secondary, led by Pro Bowl CB Sauce Gardner and Pro Bowl alternate CB D.J. Reed, will tangle with debatably the NFL's best wide receiver duo in Tyreek Hill and Jaylen Waddle … again.
In Week 5, Hill and Waddle were held to a combined season-low 70 receiving yards.
Last week against the Seahawks, the Jets held Pro Bowl WRs D.K. Metcalf and Tyler Lockett to 18 combined yards. In three games this season, the Green & White secondary has held Justin Jefferson, Hill and Stefon Diggs, all top-five in the NFL in receiving yards, to a combined 222 receiving yards. It also held Bengals
WR Ja'Marr Chase, who finished top five in yards, yards per reception and touchdowns in the 2021 season, to 3 receptions for 29 yards.
Dolphins QB Shuffle
For the second time this season, the Jets will not play against starting Dolphins QB Tua Tagovailoa.
Tagovailoa, who missed the Week 5 matchup at MetLife Stadium with a concussion, is again in the concussion protocol. That puts Teddy Bridgewater, who dislocated the pinky finger and his throwing hand trying to make a tackle on an interception last week, rookie Skylar Thompson or veteran Mike Glennon, who was signed to Miami's practice squad on Wednesday, in line to start in the regular-season finale.
"There's a lot of variables that are going on," Dolphins HC Mike McDaniel said. "I think for me right now, I'm preparing for both Skylar and Teddy. I think it's too soon to know anything about Teddy." He added on Bridgewater's injury:  "It's something that we'll see as the swelling goes down during the week. He thought he possibly could go back into the game this past game. Once we got him a couple throws after we had him in the tent, it was already third-and-10 and that would have been a precarious situation to go back in the game."
Bridgewater started in Week 5, a 40-17 Jets win, but only took one snap. Gardner blitzed on a play-action pass and Bridgewater injured his elbow on the hit that resulted in a safety when he was flagged for intentional grounding while passing from the end zone. Thompson, a seventh-round pick of out Kansas State, played the rest of the game, throwing for 166 yards, 0 touchdowns and 1 interception while completing 57.6% of his passes.
Spoiler
While the Jets' season is over after this week, the team has a chance to play spoiler on Sunday in South Florida against a division rival it has not swept since 2015. With a win on Sunday, the Green & White would eliminate the Dolphins from the playoffs. Miami needs a win and a Patriots loss or tie at Buffalo to nail down the AFC's No. 7 seed.
"It's another championship game," Jets HC Robert Saleh said. "I know it's technically not, but you have to keep your mindset. Any time you have a chance to step on the field, you've got to step on the gas and do the absolute best you can. Would it be nice to have McDaniel hanging out with me poolside in a couple of weeks? You're damn right it would. But really it's more about us and making sure that we're focused on finishing the season strong and being our absolute best."