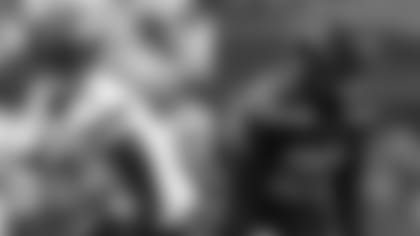 Impressive Rookie Classes
Sunday's game features, debatably, the top two rookie classes in the NFL. 
The Jets could have the NFL's offensive and defensive rookies of the year in WR Garrett Wilson, who is 4 yards away from becoming the first rookie receiver in franchise history to eclipse 1,000 receiving yards; and Pro Bowl CB Sauce Gardner, who leads the NFL in pass defenses.
The Seahawks selected nine players and have five rookies starting, led by fifth-round Pro Bowl CB Tariq Woolen, who is tied for the NFL lead with 6 interceptions. Woolen is joined in the secondary by rookie CB Coby Bryant, who was teammates with Gardner at Cincinnati. Bryant, whom the Jets coached at the Senior Bowl, has 60 tackles, 4 pass defenses, 4 forced fumbles and 3 QB hits in 2022.
Seattle's first pick was LT Charles Cross at No. 9 overall, one pick before the Jets selected Wilson. Cross has started 15 games and third-round pick Abraham Lucas, whom the Green & White also coached in Mobile last February, has done the same at right tackle.
Cross and Lucas have paved the way for second-round RB Kenneth Walker, selected five picks after the Green & White took Breece Hall. Walker, the Walter Camp Award winner in 2021, has 803 yards and 9 TDs on 176 carries (4.6 avg).
"Young teams," HC Robert Saleh said. "We're different in that we're building, they kind of restarted. So you kind of put yourselves in the same mold. You look at them, they're very young in key spots and play with a lot of juice, a lot of energy. They play fast, physical. It does feel like we're looking in the mirror."
Geno Smith's Resurgence
Seahawks QB Geno Smith, drafted by the Jets in the second round in 2013, is having a career year in his ninth NFL season.
Smith has thrown for 3,886 yards, 27 touchdowns and 9 interceptions while completing a league-high 70.7 percent of his passes. His 102.9 rating is No. 5 in the NFL. Smith's previous career bests were 3,046 yards (2013), 13 touchdowns (2014) and 13 picks (2014).
From 2015-21, the West Virginia product played on four teams, started five games and played in 15.
"They're really talented," Saleh said of the Seahawks offense. "And when you put in a veteran quarterback like him, you can see that he's grown so much with the ability to process, get the ball out of his hands and go off schedule. He looks very comfortable and competent. You can see that he's really taken off and he's comfortable in the surroundings and playing at a very high level."
Fighting for the Playoffs
The Jets (7-8) and the Seahawks (7-8) are fighting for a playoff spot and are on the outside looking in. Seattle is the No. 8 seed in the NFC and the Green & White the No. 9 seed in the AFC.
For the Jets to make the postseason for the first time since 2010, they need to win their final two games and need the Patriots to lose or tie one of their final two.
"This isn't about playoffs," Saleh said on Monday. "Obviously, I get it. Just looking at, we got to get back to what we were the first half of the season — one day at a time, take advantage of the moment and whatever happens, happens. Stay in the moment. I get there's something out there, just like there was something out there in the beginning of the season. We still have to find ourselves, we got to find some confidence, we've got to get the ball rolling. It starts with how we prepare day-in-day-out and how we attack these moments. The playoffs, all that stuff, is cool, but we've got to stay connected to this moment in Seattle, and Seattle only."