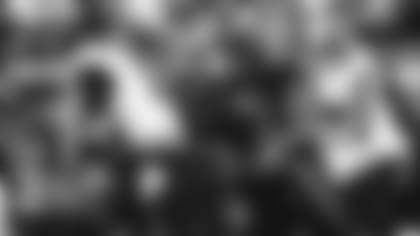 Another Hot Team
For the second game in as many weeks, the Jets are welcoming in a roaring big cat.
The Jaguars enter Week 16 with a 4-2 record in their last six games behind second-year QB Trevor Lawrence. Lawrence, the No. 1 pick in 2021, has thrown for 1,680 yards, 14 touchdowns and 1 interception while completing 70.4% of his passes in that span for a 111.2 rating, which leads the NFL.
"He looks very comfortable right now," HC Robert Saleh said. "He's playing at a very high level, he's playing fearless in the pocket, standing tall. He's scrambling when he has to. He's looking very accurate in rhythm and within timing. He has some cool guys to throw to. He has a lot of guys that have a lot of speed on that team. But he's doing a really nice job just playing fast, getting the ball where it needs to."
Jacksonville's offense ranks No. 6 overall and is coming off a come-from-behind overtime win against Dallas. The Jags fell behind, 27-10, in the third quarter before roaring back to tie the game at 34 on a field goal as time expired in regulation. The defense intercepted a Dak Prescott pass and returned it for the game-winning score. Lawrence threw for 318 yards, 4 touchdowns and 1 interception.
Injury Update
The Jets are dealing with a handful of injuries.
DT Quinnen Williams, who missed the last game with a calf injury, will take it right until kickoff. Saleh said he's very confident WR Corey Davis will clear the concussion protocol, but fellow wideout Denzel Mims will be out for Week 16 with a concussion. Brandin Echols (quad) will also be out. S Lamarcus Joyner (hip), RB Zonovan Knight (ankle) and WR Jeff Smith (knee) are questionable.
For the second straight week, Zach Wilson will start for the injured Mike White (rib), who was not cleared for contact.
The Jaguars lost LT Cam Robinson for the season to a meniscus injury. Walker Little, a second round-pick in 2021, will replace him. Walker played 30 snapsin Sunday in Jacksonville's win over Dallas (15 at LT and 15 at RT for Jawaan Taylor).
"He went in there in some adverse conditions against those two edge rushers [Micah Parsons and DeMarcus Lawrence] and did a nice job," Jags HC Doug Pederson said. "We have a lot of confidence in Walker and look forward to getting him in there and getting him going."
He added: "I thought he did a great job. That's part of that role of being that swing tackle, being able to play both sides. He didn't have time to think about it: he was in there. I thought he did a good job."
Running the Ball
The Jets ran for a season-low 50 yards in Week 15 against the Lions as they dropped their third straight game
The Green & White is 5-1 in games where it eclipses 100 yards and 1-6 in games with fewer than 100 yards. Knight has run for 253 yards in four games, but was held to a career-low 23 yards on 13 carries (1.8 avg) last week.
"It's a little bit of everything," Saleh said. "We have to protect better, we have to run better, the backs have to see it better. It's not just on the one hand, it's all encompassing for our O-line in terms of getting back to what makes us good. Hopefully we give ourselves a chance to try and find that this week."