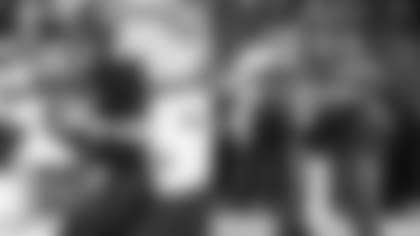 Pair of Mid-Round QBs
Jets QB Mike White and Vikings QB Kirk Cousins are two of seven quarterbacks in NFL history to throw for at least 300 yards and 3 touchdowns in two of their first five starts.
Cousins, a fourth-round pick in 2012, did it in his first of the 2014 season with Washington. White, a fifth-round pick in 2018, did it last week against the Bears in his fourth career start.
This season, Cousins' 2,760 passing yards ranks No. 7 in the NFL. He also has 17 touchdown passes and 9 interceptions. His numbers are better at home, completing 69.1% of his passes compared to 60.8 on the road. He's thrown 2 of his 9 picks at home and has a 100.7 rating in Minnesota (76.2 elsewhere).
"Super talented," HC Robert Saleh said. "Make you pay if you're off. He's a very quick decision maker, you have to be relentless in coverage, find a way to make him hitch. If you make him hitch, you can get home. That's your best chance, but if he can sit back there and make pizza, it'll be a long day."
Cousins, WR Justin Jefferson, whose 1,232 receiving yards ranks No. 2 in the NFL, and the Vikings will line up against a Jets defense that's No. 5 in the NFL in a strength-on-strength matchup.
White will line up against the NFL's No. 31 defense, allowing an average of 390.7 yards per game and last against the pass (276.1 yds/g). The Western Kentucky product is coming off a 315-yard and 3 touchdown game against a Bears defense that ranked No. 9 entering last week's matchup.
"There's really a lot of cool plays that go unnoticed," Saleh said Monday. "From throwing hot to C.J. U (Uzomah), to him drop stepping and getting vertical, just a lot of efficiency all the way across the board. … Mike did such a really nice job getting rid of the ball fast, which offensive linemen appreciate, subtle movements in the pocket. He did a really, really good job [Sunday]."
Final Frame Numbers
The Jets and Vikings are two of the NFL's best teams in the fourth quarter.
The Green & White has the best fourth-quarter point margin at plus-51 and Minnesota is No. 2 at plus-50. The Vikes' 8.45 points per game in the final frame leads the league while the Jets are sixth at 7.64. Minnesota is 8-0 in one-score games this season.
"They're very talented, well coached," Saleh said. "Defensively, they're a veteran group. They don't make mistakes in crunch time, they're very precise, they're very talented. You can see why they're so good down to the wire."
Pair of Impresive Pass Rushers
The Jets' tackles will have their work cut out this weekend against one of the league's top bookend pass rushers in Za'Darius Smith and Danielle Hunter. Smith has 9.5 sacks and Hunter has 7.
Jets RT Cedric Oghbuehi, who started the last four games, exited last Sunday's game with a groin injury and rookie Max Mitchell played the remaining 54 snaps in his first game back from a knee injury, which he sustained in Week 4. The team could have more O-line reinforcements on the horizon -- T George Fant's 21-day practice window last week.
"The intent was to give Max one more week, obviously he came in a little bit earlier," Saleh said. "For Max, he's back where he belongs. Then we'll see with George this week. We'll take it all the way through and just see how he performs this week. George is excited. I love his attitude right now. He feels good, he's saying all the right things, he's preparing the right way and excited to see how he improves this week from last week."