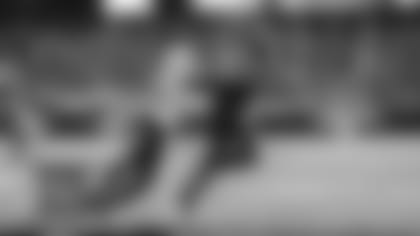 Rematch in Foxborough
The Jets on Sunday will be looking to snap their 13-game losing streak against the Patriots. They lost to the Pats in Week 8, 22-17. The Green & White turned the ball over 3 times, missed a field goal and was called for roughing the passer on a pick-six.
"They force you into mistakes," HC Robert Saleh said. "They force you into shooting yourself in the foot. They've got a saying over there – 'do your job.' If a player is there long enough, they probably hear it a thousand times in a week. Just do your job, do it to the best of your ability, and whatever happens, happens. They do their job as good as anybody.
"They're very disciplined. They're very sound in all three phases. They got after us on special teams the last time we played them. They ate us up in the field position battle. They win in different ways. It may not be demonstrative on the stat sheet, it may not be demonstrative on the tape, but at the end of the day, they're winning. That's a testament to their coaching staff and their players and the way they play."
For New England, it has been feast or famine in Foxborough this season, allowing 37 points to the Ravens in Week 32 and 33 to the Bears in Week 7. The Patriots also shut out the Lions in Week 5 and held the Colts to 3 points in Week 9.
Injuries
The Jets are getting healthier up front on the offensive line, but dealing with an injury on the D-line. Rookie T Max Mitchell (knee) returned to practice, opening up a 21-day window. He was placed on injured reserve on Oct. 8 and has missed the last five games. He started Weeks 1-3 at right tackle.
DT Sheldon Rankins (elbow) is out for Sunday's game and Saleh is "pretty confident" Rankins will avoid being places on IR, which would knock him out of the next four games.
"Rankins has been fantastic," Saleh said. "He's having a really nice season and hopefully this injury is not too long. It's a next-man-up mentality. We'll see how the week goes with how we utilize them. We've been playing plus-two on the D-line, activating 10 [players]. We'll figure it out as the week goes."
WR Corey Davis (knee) will not practice Wednesday, but still has a chance to play this week.
Third Down
In Week 9 against the Colts, the Patriots became the third team since 1991 to hold an opponent for 0 0 of 14 or more on third down (Indianapolis went 0 of 14). The Jets are the other teams to do so – against Tampa Bay in 2009 and against Arizona in 2012. This season, New England has the NFL's No. 13 third-down defense while the Green & White has struggled on third down and ranks No. 29 in the NFL. In Week 8 against the Pats, the Jets offense went 5 of 14 on third down (36%)