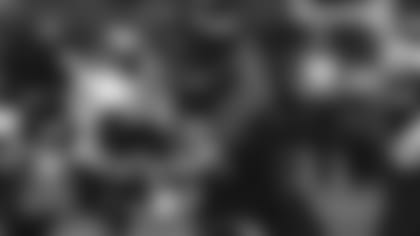 Carl Lawson, Jets DL vs. Lamar Jackson
Sunday will be the first time DE Carl Lawson will take a regular-season snap for the Jets after signing in March 2021. He ruptured his Achilles tendon that July. Lawson, who played with the Bengals for the first four seasons of his NFL career, will play former division foes in his first four games in green and white. Against Baltimore, he has 1 sack and 6 QB hits in 7 games, in his 5 games against Lamar Jackson.
Jackson is a threat to make a big play whenever he touches the ball. He's the only NFL player with 3,000 passing yards and 1,000 rushing yards in a single season (2019). The 2019 NFL MVP, however, is coming off a down season dealing with injuries that caused him to miss the final four games. He threw for 2,882 yards, 16 TDs and a career-high 13 interceptions in 12 games. The Green & White last played Jackson and the Ravens in 2019, more than two years before Saleh was hired.
"Dynamic, fast, violent as a runner," Saleh said. "He's got a really good arm, can throw the football, he's got good targets to throw to. He's special. … "He's one of the most dynamic football players in the league and he's an absolute bear to prepare for, so this is the ultimate challenge and it's in Week 1. Thankfully we've had all offseason to kind of prepare. We'll see how it works out."
Joe Flacco vs. Old Team
As if out of a storybook, QB Joe Flacco's first start in 2022 comes against the team that drafted him in 2008. Flacco was named the starter on Wednesday as Zach Wilson continues to rehab from an August knee surgery. Flacco, who started all 163 games he played with the Ravens, will start under center for the Green & White for the sixth time in three seasons. In five starts, he's thrown for 1,139 yards, 8 TDs and 3 INT completing 56.1% of his passes.
"I'm really excited for him and his opportunity," Saleh said. "Even at 37 I know that it's in the back of his head that he's getting the chance to play Baltimore and all these different things. He's got to keep to the main thing the main thing and just do his best and trust his best is good enough."
Hurt Flock
The injury bug bit the Ravens in the 2021 season.
Running backs J.K. Dobbins, a second-round pick out of Ohio State in 2020, and Gus Edwards missed the Aentire season with knee injuries. All-Pro CB Marcus Peters missed all of last season after tearing his ACL in practice leading up to Week 1 and LT Ronnie Stanley played in one game before he was shut down. Dobbins, Peters and Stanley, who all recently returned to practice, could play Sunday.
"It just depends on how he's doing," Ravens HC John Harbaugh said of Stanley. "A lot of it has to do with how he's feeling and if he's ready to go. If he feels strong, if he's moving and feels like he can be successful and if we see what we need to see. Same thing with J.K., Marcus or any of those guys."