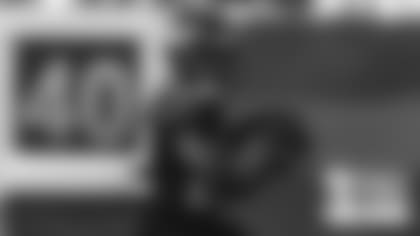 Saints Come in Hurting
The Saints are a banged-up group. Offensively, All-Pro WR Michael Thomas has not played in 2021 and will miss the entire season recovering from an injury dating to last season. Four-time Pro Bowl RB Alvin Kamara, who leads the team in rushing yards (530) and receptions (32), hasn't played since Week 9, but practiced last week leading up to New Orleans' "Thursday Night Football" loss to the Cowboys. Pro Bowl LT Terron Armstead has missed three games including last week and All-Pro RT Ryan Ramczyk hasn't played since Week 10. Starting QB Jameis Winston and Pro Bowl LG Andrus Peat are both out for the remainder of the season, and combined to play 13 games.
WR Deonte Harris, who leads the team with 523 receiving yards, was suspended earlier this week and will miss the next three games. QB Taysom Hill, who has battled foot and head injuries earlier this season, is now dealing with a finger injury that he sustained against the Cowboys in his first start of the season.
"I think there's a comfort level that they have that it's not going to get hurt any worse," Saints HC Sean Payton told reporters on Monday. "It's the middle finger and it's the top ligament. I think we'll know a little bit more this week as he goes through the week of practice, but I think your question is a great one -- is it grip related or is it when the ball releases off your fingertips? You guys have all seen a football come off the hand. The last finger that leaves it is the index finger, the second-to-last finger that leaves it is the middle finger, so hopefully he can get some good work in this week and get a comfort level as to what he can do or if there are any limitations."
Defensively, All-Pro DE Cameron Jordan was placed on the reserve/COVID-19 list earlier this week and DE Marcus Davenport has missed the last two games with a shoulder injury.
"They've had Davis Onyemata step in and play defensive end at some point," Saints team reporter Erin Summers said. "While the defense hasn't been hit as hard with the injuries, it's just been that one position because rookie Payton Turner has missed four games as well. It's been a lot of people in that role that haven't been able to play games, so there's been a lot of shifting."
WR Depth
The Jets receiving corps took a hit this week when Corey Davis was placed on injured reserve after re-aggravating his groin injury against the Eagles and Elijah Moore is day-to-day with a quad injury. Moore's 53 receptions, 538 receiving yards and 5 TDs all lead the team. The group has Keelan Cole back in the mix after missing last week because he was on the reserve/COVID-19 list.
"We love our receiving group with Elijah Moore, [Denzel] Mims is back in the fold and obviously, [Braxton] Berrios, [Jamison] Crowder and Keelan Cole," HC Robert Saleh said on Monday. "Then you got Jeff Smith. There's a lot of pieces there, I feel really good about that receiver group. Not one person has to step up, they just need to continue doing their job and run the offense the way it needs to be run and make something happen when the ball hits them in the hands."
Quick Start vs. Slow Start
One way for the Jets to put themselves in a position to win on Sunday is to get ahead of the Saints early. New Orleans has scored 24 points in the first quarter this season (3.43 per game) compared to 130 points in the fourth (18.57 avg). With a depleted WR corps, getting out in front would benefit the Green & White by forcing Hill to throw. He threw for 264 yards, 2 TDs and 4 INTs last week while completing 46.3% of his passes (19 of 41).
On the other hand, the Jets offense was able to strike fast last week for the first time this season. It scored three touchdowns on the first three drives, but didn't score any points in the second half.
"We started out with a great kick return from Braxton Berrios for our first touchdown and the next two series we were able to move the ball and get into the red zone and produce points," said WR Jamison Crowder. He added: "That's next step, not perform for 30 minutes but the whole game. Whether we get one opportunity, one series, one drive in the third, we have to make the most of it."